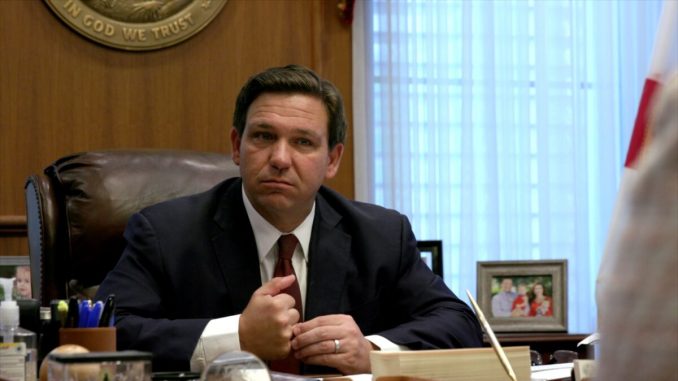 Florida Gov. Ron DeSantis on Monday signed a bill that intends to crack down on violent protests and riots in the state.
DeSantis, a Republican, signed the so-called "anti-riot" measure in Polk County, saying it is "the strongest anti-rioting, pro-law enforcement piece of legislation in the country."
The signing comes in the midst of protests, riots, looting, and arson incidents in several major cities around the United States in the wake of an officer involved-shooting death in Brooklyn Center, Minnesota. Meanwhile, a verdict is expected to be handed down by a jury in the murder trial of former Minneapolis officer Derek Chauvin, who was seen kneeling on George Floyd before his death—which sparked months of riots and demonstrations.
The law, known as HB1, increases criminal penalties for assault, defacing monuments, and vandalizing public property during riots. Local governments that interfere with law enforcement trying to contain violent demonstrations would be penalized. Meanwhile, a citizens' appeal process will be set up when counties and cities try to reduce their respective budgets of police forces.
On Monday, DeSantis said in the signing event that the left-wing cries of "defund the police" that echoed throughout Black Lives Matter demonstrations last year is an "insane theory" and is "not going to be allowed to ever carry the day in the state of Florida."
Democrats and the American Civil Liberties Union (ACLU) have said that the law is designed to intimidate Black Lives Matter and related protesters.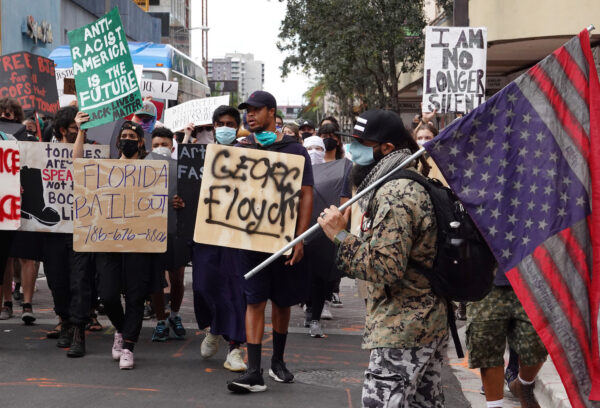 "The bill was purposely designed to embolden the disparate police treatment we have seen over and over again directed towards black and brown people who are exercising their constitutional right to protest," said Micah Kubic, the executive director of ACLU of Florida, in a statement.
The law went into effect immediately after DeSantis signed the bill on Monday.
According to the text of the bill, other new measures include changing the definition of what a "riot" is in the state of Florida. A riot will be defined as a violent public disturbance involving three or more people acting with a common intent that causes damage to public property or injuries—or can cause imminent injury or damage.
The law creates a new second-degree felony—"aggravated riot"—which takes place when a riot has more than 25 people involved, causes grievous bodily harm, or more than $5,000 in damage to property. It would also be used if participants have or threaten with a deadly weapon or block roadways by force or by the threat of force.
Florida state Sen. Danny Burgess, a Republican who sponsored the measure, said the law defines the difference between a peaceful demonstration and a riot.
"Not only did we do that to put the public on notice as to what constitutes a riot, but also to make it clear to both protester[s] and law enforcement where that line in the law is drawn," said Burgess, according to Newschannel8.