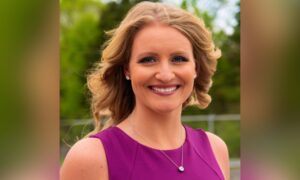 Allies of former President Donald Trump have launched a new initiative focused on election fraud, according to a news release.
Called the Election Integrity Alliance, the nonprofit will be focused on "ending election fraud and strengthening election safeguards by providing information, resources, endorsements of allies' efforts, and solutions to secure free and fair elections," the news release said.
Trump counsel Jenna Ellis, Texas Attorney General Ken Paxton, former Trump adviser Peter Navarro, former NYPD Commissioner Bernard Kerik, former White House adviser Sebastian Gorka, constitutional law professor Michael Donnelly, and former Trump lawyer Mirna Tarraf will be part of the group.
"The Election Integrity Alliance's National Board is comprised of individuals who have fought for election integrity at great personal risk and who are champions for free and fair elections," the organization said in a statement.
The American Greatness Fund was founded by former Trump campaign manager Brad Parscale, and it is part of a growing number of Trump-aligned advocacy groups that have appeared since the Nov. 3 election. Brooke Rollins and Larry Kudlow, two former Trump advisers, started the America First Policy Institute, while former Housing and Urban Development Secretary Ben Carson started the American Cornerstone Institute.
Meanwhile, former Trump speechwriter and adviser Stephen Miller formed America First Legal, which is aimed at battling the Biden administration's policies.
American Greatness Fund adds on its website that "free and fair elections are the foundation of a civil government that has power only by consent of the governed."
"In our system, We The People select and prefer individuals from among ourselves to govern us at all levels, and no individual or party has the right by conquest, heritage, corruption, or fraud to assume power," the website says. "Only through election integrity can our American government operate according to its limited and legitimate role in civil society. America is built on the recognition that our individual rights are God-given and pre-political. The only legitimate purpose of civil government is to preserve and protect those rights which are essential to liberty and justice for all."