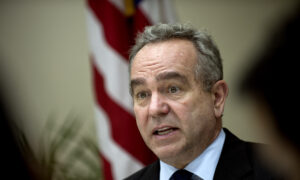 President Joe Biden's China policy looks like an amalgam of the Trump and Obama administrations: a blend of the former's collaborative approach with the hardline stance of the latter, according to the White House's top aide on Asia.
"It's an interesting compilation and combination—almost an amalgam—of elements from President Obama and President Trump," Kurt Campbell, a top official responsible for Indo-Pacific affairs at the National Security Council, said at The Wall Street Journal's CEO Council Summit. "I think there is wisdom in some of each approach, even though there's some contradictions as well."
Biden's cabinet took in a number of Obama-era veterans, including Campbell himself.
Washington under Biden has signaled willingness to work with Beijing on issues such as climate change and North Korea, while keeping the Trump administration's vocal stance on the Chinese regime's human rights record, from its repression in Xinjiang and Hong Kong to military aggression against Taiwan.
"We're interested in practical, clear areas where we could work together on issues where we share mutual concerns," Campbell said.
Secretary of State Antony Blinken, who served as deputy secretary of state during Obama years, has defined the U.S. relationship with China as a multifaceted one consisting of adversarial, competitive, and cooperative aspects. "Our purpose is not to contain China, to hold it back, to keep it down. It is to uphold this rules-based order that China is posing a challenge to," he said in a May 2 interview with CBS 60 Minutes.
Biden officials have emphasized working with allies to counter Beijing. The United States has imposed coordinated sanctions with the European Union, Canada, and the UK on Chinese officials responsible for Xinjiang abuses. Katherine Tai, the new trade chief, said she would keep Trump's trade tariffs on China in place. Administration officials and lawmakers have defended aggressive spending in chip manufacturing to reduce U.S. reliance on China, another policy initiated under the Trump administration.
"We're likely to see steps that are both offensive and defensive," said Campbell. That includes "investments in some key technologies" and efforts "to prevent certain kinds of encroachments in areas of significance for American businesses operating in China," he said.
While Washington has continued to deepen ties with Taiwan, a democratic self-ruling island that Beijing claims as its own, Campbell on Tuesday stopped short of vouching for an explicit U.S. promise to defend Taiwan in the event of a Chinese attack.
In a same day discussion hosted by Financial Times, Campbell warned that a shift to "strategic clarity" would bring "significant downsides," adding that any U.S.-China confrontation over Taiwan "would broaden quickly" and "fundamentally trash the global economy in ways that I don't think anyone can predict."
"The best way to maintain peace and stability is to send a really consolidated message that involves diplomacy, defense innovation and our own capabilities to the Chinese leadership, so they don't contemplate some sort of ambitious, dangerous provocative set of steps in the future," he said.
Challenges from Chinese regime were the subject of a 90-minute opening session as the Group of Seven gathered for their first in-person meeting since the pandemic.
While the United States would like to welcome China as "an integral member of the international order," it has to depend on Beijing playing by the rules, a senior State Department official said in a briefing about the G7 meeting.
"There's this reality that while we want to make sure China's playing by the rules of the road, we also all want to benefit from Chinese economic activity, so long as they're not stealing our IPR [intellectual property rights] … or using that technology to invade into our societies like we've seen with Huawei, 5G," the official said.