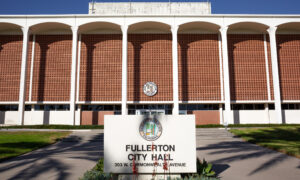 Fullerton city council has rejected a complete ban on whole house short-term rentals (STRs).
Council during a May 4 meeting instead proposed shortening the cap on unoccupied STRs in an attempt to compromise after being hit with lawsuits from parties on both sides of the issue.
It will vote during its May 18 meeting on an amended ordinance that would reduce the limit of total allowable whole-house STRs within the city from 325 to 100.
"I think 100 is a good number," Councilmember Fred Jung, who proposed the cap, told The Epoch Times May 5.
"It's a compromise that would get us across the finish line and be done with this thing."
The issue dates back to the previous council, which implemented the original ordinance that placed a cap on whole-house rentals.
Jung called the ordinance a "terrible decision."
"No one would have known about short-term rentals in the city, were it not for the previous council," Jung said. "They took it upon themselves to make and craft an ordinance that didn't need to exist."
Soon after the ordinance went into effect, a hotel and restaurants union threatened litigation, claiming the city didn't follow the California Environmental Quality Act (CEQA). Many of the union members are hotel and restaurant workers, and the STRs provide competition for vacation rentals.
As a result of that legal threat, the current council moved to ban whole house STRs; the proposed ordinance passed its first reading April 20.
After which, STR property owners filed a lawsuit to counter the council's decision, claiming the ban would jeopardize the income of whole-house STR owners, and the livelihoods of those wishing to rent them within the city.
Council voted during its most recent meeting to throw out the whole-house STR ban.
Jung proposed to limit the cap to 100, since there are not that many whole-house STRs operating within the city to begin with. He said that out of the city's 47,000 homes, about 64 are STRs, with even less whole-house rentals.