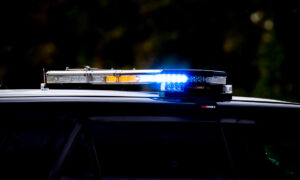 Three men are dead and two woman are injured following an Anaheim crash.
Anaheim police said a white Mercedes-Benz and Kia collided May 4 about 2:50 a.m., near the intersection of Brookhurst Street and Orange Avenue.
The occupants of the Kia, three yet-to-be-identified men, were declared dead on scene.
Police said the driver of the Mercedes and her passenger, both women in their 20s, were picked up by a vehicle and later found at a local hospital.
"We're still working to determine if that's somebody that the Mercedes people knew, or if it was just a bystander witness who was attempting to help them," Sgt. Shane Carringer told The Epoch Times. "The driver has been located; the passenger has been located. We're still trying to determine which was which."
One woman underwent surgery and was in stable condition. The other sustained moderate injuries, police said.
Traffic investigators are working to determine who was at fault.
Police said they believe the Mercedes was speeding at the time of the crash, although it is unclear whether that was the cause of the incident.
The black Kia was pulling out of a parking lot from a commercial area, onto Brookhurst when it was hit.
Under normal circumstances, the Mercedes would have the right of way, Carringer said. However, he added, there are a variety of other factors that could might have caused the accident.
Shortly after the collision, there was a small fire between the two cars, "primarily focused on the Mercedes, but it was quickly extinguished," Carringer said.
No names have been released and no charges have yet been laid.