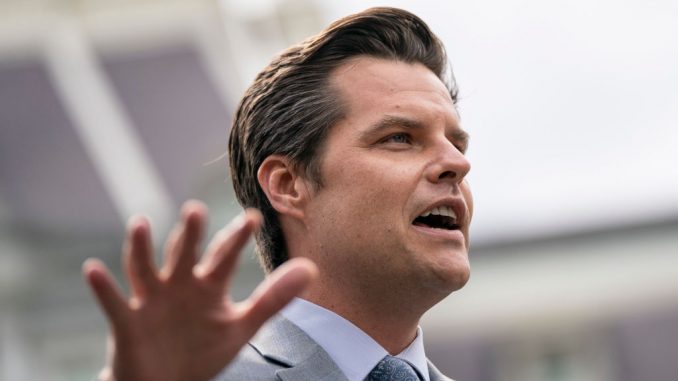 OAN Newsroom
UPDATED 12:40 PM PT – Wednesday, September 1, 2021
Congressman Matt Gaetz (R-Fla.) has been exonerated and the Department of Justice's sex trafficking investigation has been shut down as the man who made the false allegations is now behind bars. Florida developer and convicted fraud, Stephen Alford, faced a judge on Tuesday after he was indicted for extortion.
According to a newly unsealed indictment, the 62-year-old spread lies about Gaetz as part of a complex scheme to defraud Gaetz's father of $25 million.
"Alford is alleged to have been involved in a scheme to obtain money based upon false promises or guarantees he made to the victim that Alford could deliver a presidential pardon for a family member of the victim," said the Justice Department in a statement.
Gaetz had adamantly denied the sexual misconduct allegations and called Alford's claim a pile of lies.
.@dcexaminer ran this story when other outlets refused.

I've been proven right.

They tried to extort me on a pile of lies.

Alford wasn't acting alone – he had help from people with strong ties to the federal government.

There is much more to this attempt to destroy me. https://t.co/sEwDPdrTSK

— Matt Gaetz (@mattgaetz) August 31, 2021
The Federal Bureau of Investigation (FBI) is now working to determine who else was involved in the shakedown attempt. Meanwhile, Alford is currently in the custody of U.S. Marshals.