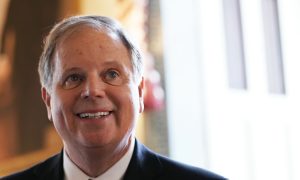 Former Sen. Doug Jones (D-Ala.) has joined a Washington-based firm, he and the company announced this week.
Jones will work for Arent Fox, which says it "offers insight into the inner workings of Capitol Hill and the Executive Branch from former Members of Congress, Administration officials, and senior staff."
Jones told news outlets that he will not work as a lobbyist. Instead, he is working as an attorney.
Byron Dorgan, another former senator (D-N.D.), already works for Arent Fox.
"I'm so proud that Senator Doug Jones has chosen to join our firm," Dorgan said in a statement to news outlets. "He and his colleague Cissy Jackson will be such a strong addition to our Government Relations practice and great advisors to our clients. "
Jones lost a reelection bid last year. Republican nominee Tommy Tuberville, who was endorsed by former President Donald Trump, triumphed over the incumbent.
Jones entered office in 2018 when he won a special election to fill the seat left vacant when Sen. Jeff Sessions (R-Ala.) joined the Trump administration. Sessions tried to get his old seat back in the 2020 election but lost to Tuberville in the Republican primary.
Many former lawmakers join lobbying firms. In recent years, former Reps. Joe Crowley (D-N.Y.), Rodney Frelinghuysen (R-N.J.), and Gary Ackerman (D-N.Y.), among a number of others, have joined lobbying companies shortly after leaving office.