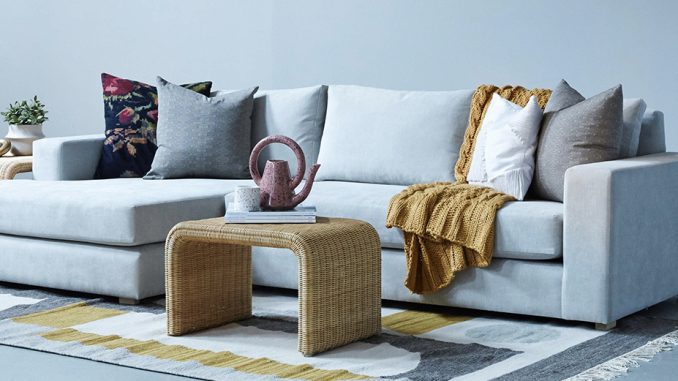 Classic Sofa's in-house craftsmen and interior designers—which includes the company's own president—customize the furniture-making process every step of the way
The design company Classic Sofa was a family business with over 20 years of experience producing handcrafted bespoke furniture by the time it was handed down to a second generation in 2007.
The timing couldn't have been worse. The United States suffered a subprime mortgage crisis in 2007 that would lead to a global financial crisis the following year. The challenge of a major recession proved too difficult to overcome, and Classic Sofa's owners had to put the business up for sale in 2012.
One person's misfortune can become another's gain.
Blake Anding didn't set out to become a furniture designer. In fact, he studied biomedical engineering and worked in finance for many years—until he decided he needed to make a life change. In 2012, he saw Classic Sofa for sale and, despite having no experience in design, bought it. He had a lot to learn, but he knew what he had to do to revive the company's roots as a leader in the custom upholstery industry.
"When I took ownership, I called people who worked with Classic Sofa in the past and picked the best upholsterers and the two best framers to come back to work with us," Anding told American Essence in a phone interview. Besides sofas, the firm also customizes upholstered chairs, pillows, and draperies.
Many of the craftsmen started young and learned from family members in the trade. The worker with the least experience at Classic Sofa still has more than ten years' experience, while the staff with the most has worked for 50 years, with an average of 30 years.
"Some of them started very young in a foreign country and migrated to the United States," he said.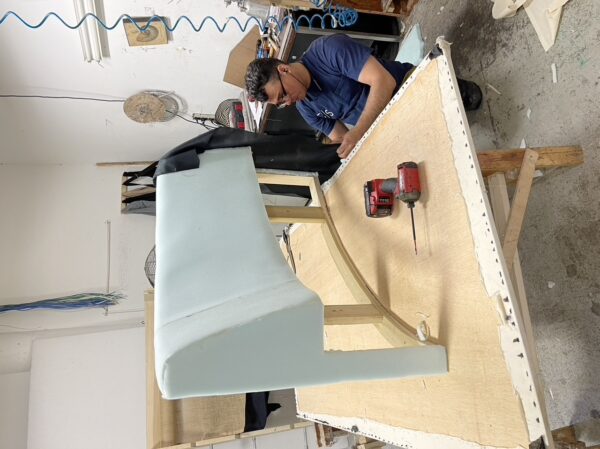 There was a Jamaican Jewish artisan who mentored Anding in how to do framing and tusking, as well as a Mexican woman who taught him how to do upholstery.
"She first came for a job at this factory when she was 12 years old. She put tons of makeup on to look older, but the owner at the time came up to her and, with just the tip of his finger, swiped it off her cheek and told her to come in a few years when she was older."
Anding has grown the business over the last ten years and has had the pleasure of watching it flourish. The firm has worked with renowned interior designers on high-profile projects—providing upholstery to the Trump SoHo hotel (now The Dominick hotel); sofas and cushions for the rooms in The London NYC hotel (which has since been rebranded a Conrad hotel); and a sofa and loveseat for talk show host Andy Cohen's Manhattan apartment.
But what the company is most proud of is its quick lead times. After receiving the fabric, it can produce and deliver completed projects in three to four weeks, compared to the average 12 to 16 weeks for competitors.
"It's unheard of in our industry. It's a very fine-tuned machine because we have the right people working on the projects: getting materials in, for example, so projects get delivered quickly."
He mostly works with clients in the tri-state area as well as Florida and California, as the vast majority of his clients have homes in the United States, but he has also shipped furniture to Paris and London.
The firm only does 100 percent custom bespoke, from fabric to wooden pieces, for residential and commercial projects. The furniture is bench-made, meaning produced to requested design specifications, and manufactured locally in the Bronx by master craftsmen.
"I work in the factory with them to ensure the quality of our products every step of the way," Anding said.
Before going to the showroom, clients can submit ideas to the company via its website, so when they arrive at the firm's Manhattan design center, they'll only need to work with interior designers to determine specific details such as seating dimensions, cushion densities, and fabric selection. Another major selling point is that the company offers a lifetime guarantee on frames and springing.
Clients can request an in-home consultation with a member of Classic Sofa's design team and get assistance on style, cushion fill, and fabric choice for a new piece or reupholstery for an existing piece. The company also has a whole host of fabric partners, including Brunschwig & Fils, Coraggio, Designtex, Ralph Lauren, and many more. These brands have their own custom furniture collection with Classic Sofa—for the clients who aren't looking for a fully unique product.
Uniqueness, though, is Classic Sofa's specialty. The more challenging the project, the more fun Anding has when transforming clients' ideas into products. According to Anding, that's the best part of the job.
"One of my favorite projects was for actress Mary-Louise Parker's new Brooklyn residence. She wanted a [Vladimir] Kagan-inspired piece but with loose seat cushions for comfort. Most importantly, the piece was oversized, stretching across her entire living room."
Anding needed to trace out a sectional design with the perfect curvature and proportional size to fit the aesthetic and size of the room. The sofa had to be designed and produced in pieces and upholstered onsite.
"Designing bespoke furniture is about understanding your client so you can distill what they see as beautiful into each piece that you make. Most importantly, this is a labor of love, from drafting the initial design, through framing and upholstery, to seeing smiles on client's faces on delivery," he said.