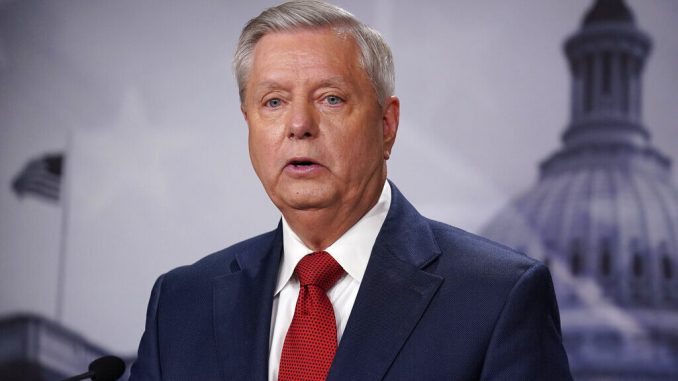 OAN Newsroom
UPDATED 10:57 AM PT – Friday, April 16, 2021
Sen. Lindsey Graham (R-S.C.) expressed his outrage over Democrats' effort to expand the Supreme Court. In a series of tweets on Thursday, he called the legislation a dangerous, radical idea.
If successful, this would inevitably lead to changing the number of Supreme Court Justices every time there is a shift in power.

Over time that would surely make the Supreme Court a political football, destroying its effectiveness and independence.

— Lindsey Graham (@LindseyGrahamSC) April 15, 2021
"If they try to expand the court to dilute a conservative majority, the next time a Republican is in power, will we change the number?" Graham asked. "You make the Supreme Court basically political football, it loses its independence, its consistency."
The senator said he is worried about the stability of the court.
"It was a bad idea when FDR tried to do it," Graham added. "It's a bad idea now, and I'm hoping some Democrats will see that this will over time, undermine the rule of law."
This came as the proposal received an unenthusiastic response from Republicans and top Democrats, including Speaker of the House Nancy Pelosi (D-Calif.), who expressed strong reservations about the legislation.
"I don't know if that's a good idea or bad idea," Pelosi said.
Graham also noted that Justice Stephen Breyer, a Democrat appointee, disagreed with court packing and has spoken out against it saying, "these considerations convince me that it is wrong to think of the court as just another political institution and it is doubly wrong to think of its members as junior league politicians."
Sen. Ed Markey (D-Mass.), one of the bill's sponsors leading the effort, said the Republicans politicized the court, undermining its legitimacy.
"The way we repair it is straight forward. We undue the damage that Republicans have done by restoring balance," Markey explained. "And we do it by adding 4 seats to the court to create a 13 member Supreme Court."
Graham argued that changing the number of justices on the court does tremendous damage to the court itself.
Meanwhile, Rep. Ken Buck (R-Colo.) also weighed in, saying the legislation is a "full assault on the independence of the federal judiciary."
In a separate interview on Thursday, House Minority Leader Kevin McCarthy (R-Calif.) added packing the court defies what Americans stand for.
Packing the court goes against everything we believe as Americans.

But make no mistake: this is about power and control. Democrats want to dismantle our institutions, including the courts, to enact their socialist agenda. pic.twitter.com/91tpZ9UZEN

— Kevin McCarthy (@GOPLeader) April 15, 2021
"It goes against everything we believe as Americans. Everything we believed in our Constitution, the idea of fairness," McCarthy stated. "It goes against what Joe Biden, back in the day when he was senator, would say ever to do. But they only want to do it for power and to continue to have control."
Graham vowed to vote against any legislation regarding expanding the court. He added he hopes in time, the Democrats see the bill will destroy the effectiveness and independence of the Supreme Court.