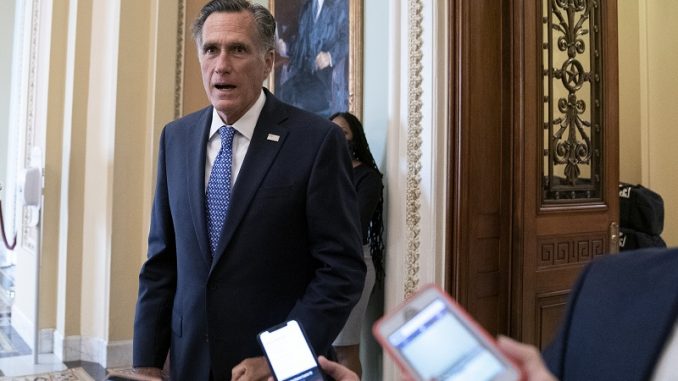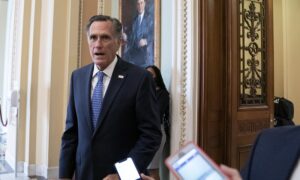 The Utah Republican Party voted narrowly on May 1 to not censure Sen. Mitt Romney (R-Utah) for voting to convict former President Donald Trump during two impeachment trials in 2020 and 2021.
According to a final tally shared by KUTV reporter Michael Locklear, 711 Republicans voted to censure Romney and 798 voted against doing so.
The U.S. Senate acquitted Trump at the conclusion of both trials. Romney was one of seven Republicans who voted to convict Trump in the last trial.
Earlier in the day, Romney was booed when he appeared on stage during the state GOP organizing convention. In a video shared by The Salt Lake City Tribune, Romney was met by a raucous crowd of mixed cheers and boos upon walking up to the podium.
"So, what do you think about President Biden's first 100 days?" Romney said before pausing and thanking the crowd repeatedly as the competing cheers and jeers continued.
The booing ramped up after Romney said he wasn't a fan of Trump's "character issues," prompting Romney to ask "aren't you embarrassed?" Utah GOP chair Derek Brown eventually walked up to the mic to ask the crowd to be respectful.
"I understand that I have a few folks who don't like me terribly much. I'm sorry about that, but I express my mind as I believe is right. I follow my conscience as I believe is right," Romney said before proceeding to criticize President Joe Biden.
The resolution was titled "Resolution Thanking Senator Mike Lee and Representatives Chris Stewart, John Curtis, Burgess Owens, and Blake Moore and Censuring Senator Mitt Romney."
"Mitt Romney voted to proceed with the unconstitutional impeachment and convict President Trump despite the lack of evidence and due process," the resolution states. "The Utah Republican Party censures Mitt Romney for his votes to convict President Trump in two U.S. Senate impeachment trials which denied the President due process, allowed falsified evidence, did not provide adequate time for an investigation, and did not follow the U.S. Constitution which states a President may only be impeached for high crimes and misdemeanors."
Trump has vowed to mount primary challenges against the Republicans who voted to impeach and convict him. Romney is not up for re-election in 2022.