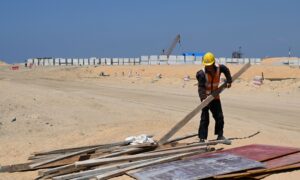 WASHINGTON— China, the second largest economy in the world has been exploiting the World Bank by receiving low-cost loans meant for poor nations, and it is time to stop this practice, say a group of prominent China critics in U.S. Congress.
The Chinese economy has grown rapidly over the past four decades ,yet the World Bank still considers China a developing nation and despite U.S. objections sends it development aid.
To cut Beijing's access to low-rate debt financing, Sens. Chuck Grassley (R-Iowa), Marco Rubio (R-Fla.), Tom Cotton (R-Ark.), Ted Cruz (R-Texas), and Rick Scott (R-Fla.) reintroduced on April 30 the World Bank Integrity Preservation Act of 2021.
"China has been lending development money outside its borders to extend its influence for years while taking in U.S. taxpayer dollars via World Bank loans," Grassley said in a statement.
The bill would "provide a short-term and longer-term means to take away the status that allows China to receive loans and halt loans to any country like China that exceeds the World Bank graduation thresholds or poses a risk to religious freedom," Grassley added.
According to World Bank policy, countries are eligible to borrow from the International Bank for Reconstruction and Development (IBRD), an institution of the bank, until they reach a certain income threshold, which is called a Graduation Discussion Income threshold.
China reached this threshold in 2016 and was expected to reduce its borrowing from the bank since then. The World Bank shareholders agreed in 2018 that the loans to China would fall below a billion dollars a year. China, however, continued to receive more than $1 billion of financing annually for the fiscal years of 2019 and 2020, according to the IBRD data. And since the beginning of this year, China was already approved for a $600 million loan from the World Bank.
As of March 31, 2021, the bank's cumulative lending to China was nearly $66 billion.
"For too long, Beijing has been allowed to exploit the World Bank's limited resources even though they should not qualify for assistance," Rubio said in the statement. "This bill also reaffirms America's continued commitment to religious freedom worldwide."
Similar legislation was introduced in December 2019 to block the World Bank from issuing more funding to the Chinese Communist Party (CCP).
The United States led other countries in the establishment of the IBRD in 1944, and today it is the largest shareholder of the World Bank Group.
"Under no circumstances should American taxpayers be on the hook for World Bank loans to countries actively repressing religious minorities, especially to Communist China, which is committing genocide against Uyghur Muslims," Scott said in the statement.
China is also the world's largest creditor, accounting for almost 65 percent of official bilateral debt.
In recent years, China has lured many poor countries into a debt trap through its Belt and Road Initiative (BRI), which is one of the world's most ambitious and controversial development programs. Since its launch in 2013, the BRI has poured billions of dollars into emerging countries to help build massive infrastructure projects.
"The Chinese Communist Party is engaged in an ongoing genocide against the Uyghurs. They exploit international finance for their human rights atrocities," Cruz said, according to the statement.
"The World Bank has also contributed to the Belt and Road initiative, in which the Chinese Communist Party utilizes coercive debt traps to advance their interests," he added.
Most BRI projects are financed mainly through a wide range of Chinese local government and state-controlled institutions. And some of them are co-financed by the World Bank and other multilateral development banks.
The World Bank has also funded projects in Xinjiang, such as the Technical and Vocational Education and Training Project.
"The United States must urge the World Bank to end these loans, which are contrary to its own guidelines and the demands of justice," Cotton said in the statement. "Every dollar loaned to China is a dollar spent on strengthening the CCP's grip over the Chinese people,"
The Chinese Communist regime has come under fire for using debt as a tool to gain political and economic leverage over other nations and silence them about the regime's human-rights violations.
In addition, a new study led by AidData, a U.S. research lab at the College of William and Mary, showed that China's loan contracts with emerging countries have uncommon secrecy provisions, collateral arrangements, and debt renegotiation restrictions.
Chinese lenders, for example, were given the freedom to cancel loans or accelerate repayment if they disagree with a borrower nation's policies.
Through its so-called "debt trap diplomacy," Chinese regime has also grown its influence on religious freedom and human rights overseas.
The U.S. Commission on International Religious Freedom in its annual report released on April 21 stated that Beijing's economic and geopolitical influence overseas had negatively affected rights and freedoms in other countries.
"Tactics include harassment, intimidation, and detainment of human rights activists, ethnic and religious minorities, and other critics and dissidents," the report said.