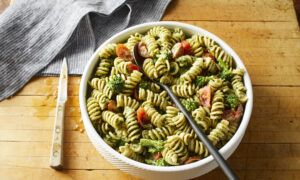 Creamy pesto sauce turns a simple pasta salad with broccoli and tomatoes into a delightful dinner. Just before the pasta is done, add the broccoli to the pasta cooking water allowing it to slightly soften and turn a vivid shade of green.
Pesto Pasta Salad
Active Time: 20 minutes
Total Time: 20 minutes
Serves 5
8 ounces whole-wheat fusilli (about 3 cups)
1 cup small broccoli florets
2 cups packed fresh basil leaves
1/4 cup pine nuts, toasted
1/4 cup grated Parmesan cheese
2 tablespoons mayonnaise
2 tablespoons extra-virgin olive oil
2 tablespoons lemon juice
1 large clove garlic, quartered
3/4 teaspoon salt
1/2 teaspoon ground pepper
1 cup quartered cherry tomatoes
Bring a large saucepan of water to a boil. Add fusilli and cook according to package directions. One minute before the pasta is done, stir in broccoli. Cook for 1 minute, then drain and rinse under cold running water to stop further cooking.
Meanwhile, place basil, pine nuts, Parmesan, mayonnaise, oil, lemon juice, garlic, salt, and pepper in a mini food processor. Process until almost smooth. Transfer to a large bowl. Add the pasta and broccoli, along with tomatoes. Gently toss to coat.
Tasty Tip: To make ahead, refrigerate, covered, for up to one day.
Recipe nutrition per serving: 317 Calories, Total Fat: 15 g, Saturated Fat: 2 g, Cholesterol: 5 mg, Carbohydrates: 38 g, Fiber: 5 g, Total Sugars: 1 g, Protein: 8 g, Sodium: 474 mg, Potassium: 227 mg, Iron: 1 mg, Folate: 30 mcg, Calcium: 78 mg, Vitamin A: 1615 IU, Vitamin C: 23 mg.
EatingWell is a magazine and website devoted to healthy eating as a way of life. Online at EatingWell.com. Copyright 2021 Eating Well, Inc. Distributed by Tribune Content Agency, LLC.