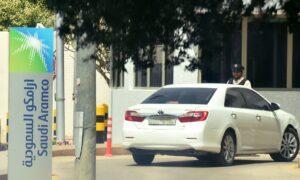 Saudi Arabia plans to sell a 1 percent stake in Aramco, the world's largest oil company. Based on the company's market value, the potential sale could be worth $19 billion.
It is believed that the Chinese Communist Party's sovereign wealth fund China Investment Co., Ltd. (CIC) is most likely to reach a deal with Aramco.
Crown Prince Mohammed bin Salman revealed some details in televised remarks on April 27.
"There are talks now for the acquisition of a 1 percent stake by a leading global energy company in an important deal that would boost Aramco's sales in … a major country," he said, "There are talks with other companies for different stakes, and part of Aramco's shares could be transferred to the (Saudi) Public Investment Fund (PIF) and a part listed … on the Saudi bourse."
Several sources told Reuters that major Chinese investors are in talks to buy a stake in Aramco, including CIC and Chinese state-owned oil companies. One of the sources revealed that Aramco had been in touch with Chinese investors for a few years and CIC is the most likely investor.
Saudi Arabia, the largest oil exporter in the world, has become China's largest oil supplier for the past seven months. According to 2020 data from the Organization of the Petroleum Exporting Countries (OPEC), the country's oil and gas sector accounts for nearly 50 percent of its GDP, and oil and gas exports account for as much as 70 percent of its total export revenue.
Aramco went public on the Saudi Stock Exchange in Riyadh at the end of 2019 and raised$25.6 billion through an initial public offering (IPO), setting the world's record as the largest IPO as well as becoming the world's largest listed company.
Established in September 2007, CIC is the world's second largest sovereign wealth fund after the Norwegian sovereign wealth fund. It is a wholly state-owned company specializing in foreign exchange fund investment and affiliated to China's Ministry of Finance, with a registered capital of $200 billion. Its first chairman was Lou Jiwei, the former deputy secretary-general of the State Council.
Bin Salman has publicly stated that Saudi Arabia is strengthening relations with China, India, and Russia. The 86-year-old Saudi King, Salman bin Abdul Aziz Al Saud, has close ties with the Chinese Communist Party (CCP) and visited Beijing in 1999, 2014, and 2017.
Before the outbreak of the CCP virus pandemic, the Gulf countries have been trying their best to avoid exchanging oil assets for foreign investment. However, affected by the pandemic, oil prices plummeted last year, and the whole world is advocating a transition to green energy. As a result, Saudi Arabia and other Middle Eastern countries had to look for international investors to inject funds.
China expert Li Yanming believes that if CIC controls 1 percent of Aramco's share, it is not just an issue of economic profit for the CCP.
"A more important aspect is the geopolitical significance," he said. "The CCP will take this opportunity to control the energy sector in the Middle East, and influence the structure of global energy supply, paving the road for itself to become a hegemon in the world."