Stretched out on the warm sand of Myrtle Beach, it's easy to unwind. During a recent trip to there, I watched a little boy launching a kite nearby, his little legs running as fast as they can. On the shore, my family shrieked with laughter as they tossed a Frisbee in the waves. Overhead, the sky was a clear bright blue. It was the perfect day for making family memories.
For many, vacation means spending time at the beach, with beach towns ranking among America's top vacation destinations. A recent survey by Vacasa found that 57 percent of Americans are planning a beach vacation this year.
Myrtle Beach, South Carolina, has long been a top American beach destination. Known for its golden-sand beaches and world-class golf courses, it draws thousands of visitors each year. It's especially popular with families.
One reason is that the region offers an affordable beach vacation. During our visit, I found that the prices for dining, hotels, and attractions were about one-third cheaper than similar prices would be at beach destinations in Hawaii or California. That really helps when you're trying to stretch a family vacation budget.
Bustling Myrtle Beach is made for families with children. Kid-friendly activities are plentiful: from larger-than-life mini-golf parks to water parks, an aquarium, an interactive science museum, a pirate show, the 187-foot Myrtle Beach Skywheel, and more. There's a wide array of restaurants to suit just about everyone, but the town also has an abundance of family-friendly establishments, including a large assortment of popular pancake houses.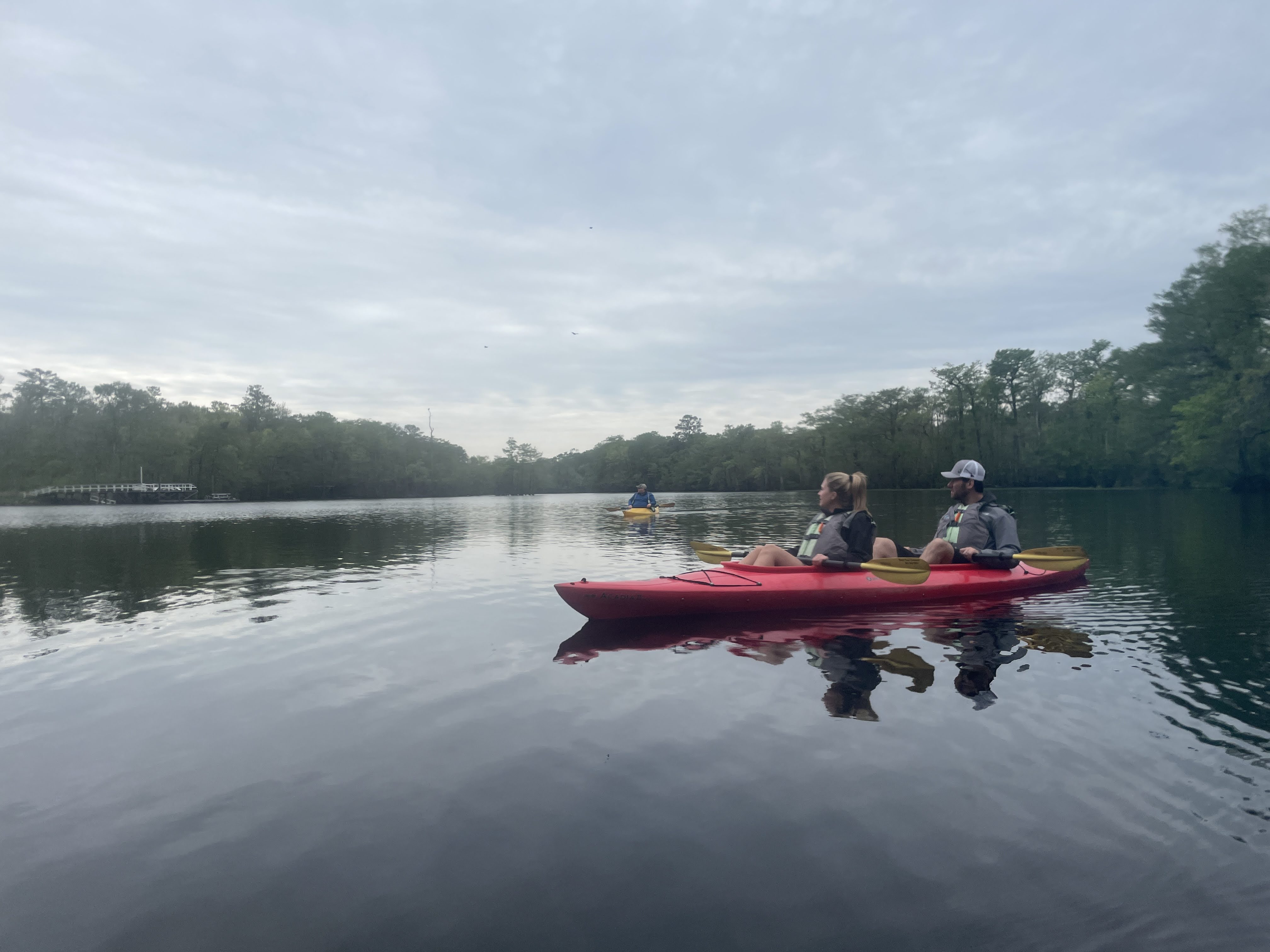 The Grand Strand
Yet Myrtle Beach is only part of the story. The town is one of 14 distinct communities that line the Grand Strand, a 60-mile stretch of beach that bends along the southern coastline of South Carolina from the small town of Little River to Pawleys Island.
While the Grand Strand has been drawing travelers for decades, it hasn't always been a beach destination. Until the 1900s, the beaches along this part of the South Carolina coast were sparsely inhabited due to geographical inaccessibility and a poor economy. It wasn't until 1901 that a timber firm built the region's first beach hotel, the Seaside Inn. A contest was held to name the new beach community, and Myrtle Beach was selected for the many myrtle trees that grow along the shore.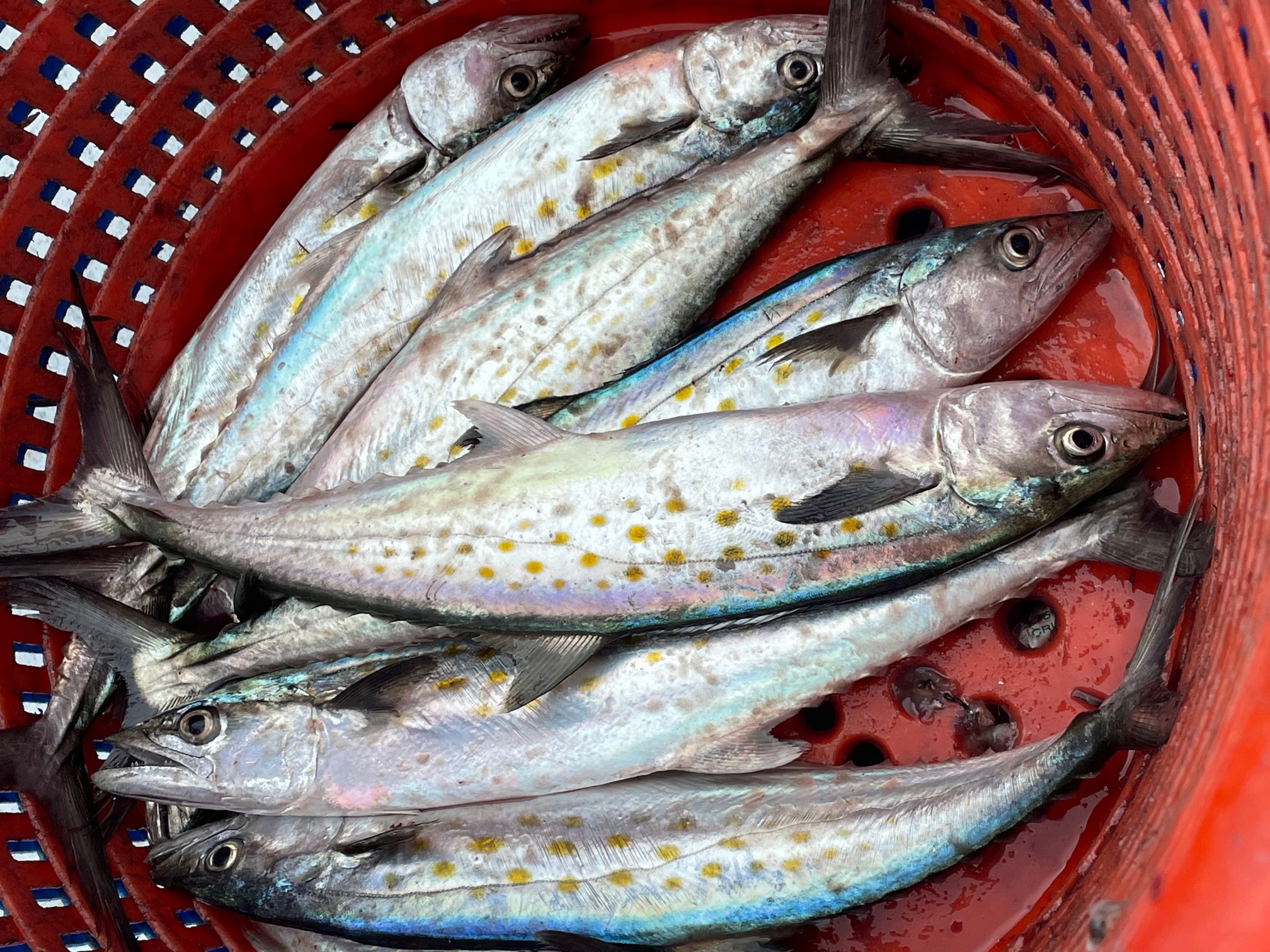 The region slowly grew through the decades. There was even an Air Force Base established for training and coastal patrols during World War II. Though that base eventually closed, Myrtle Beach grew enough to become a city in 1957.
By the 1970s, Myrtle Beach and the surrounding communities had been discovered. The city's population tripled during that decade, and there was another boom in the 1990s. Today, the Grand Strand attracts more than 14 million visitors per year and has become one of the top beach destinations in the country.
The golden-sand beaches along the Grand Strand are undoubtedly the main attraction. They're clean and well-maintained, and there's ample paid parking on many lots right along the coastline, complete with easily accessible facilities.
While it would be easy to stay in Myrtle Beach during your whole trip, you'd be missing out if you didn't explore more along the Grand Strand. Each of its 14 communities have their own vibe and feel.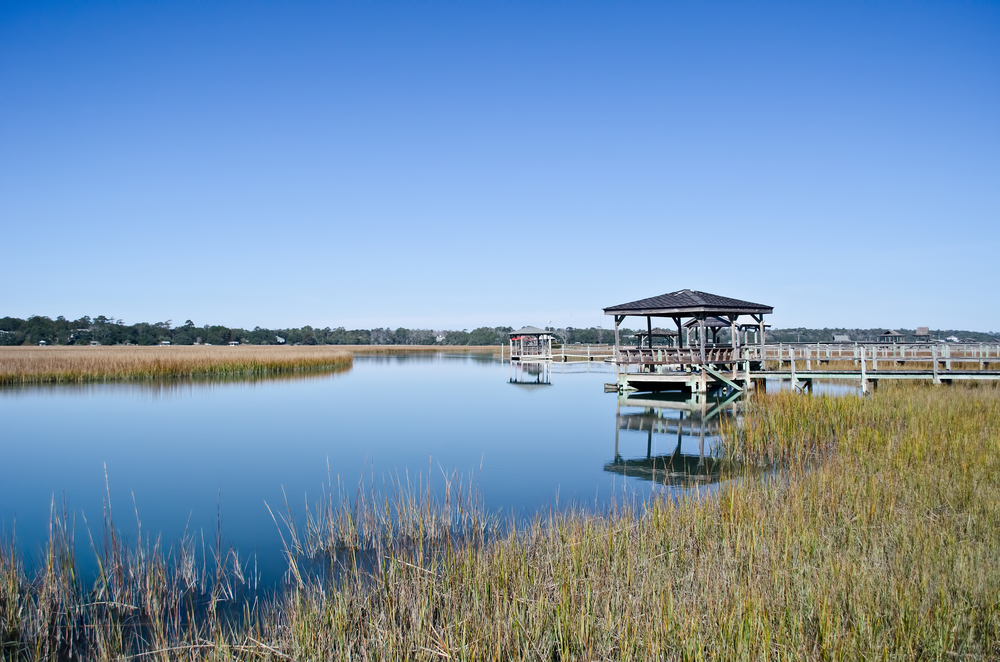 Surfside Beach
Surfside Beach is one of those communities. Though the region has many excellent hotels and resorts, my family and I chose to stay in a four-bedroom vacation rental in Surfside Beach, which has a slightly slower, quieter pace. This little town of 4,500 is nicknamed "the family beach," and they take that mission seriously. In 2016, the town became the first autism-friendly travel destination.
The town's pristine beaches are cleaned daily, and they were uncrowded during our stay. We rented a few beach umbrellas, chairs, and a cooler from a local beach supply store, spending many long, lazy days on the sand.
North Myrtle Beach
North Myrtle Beach is a nine-mile-long community on the Grand Strand that's especially known for its shopping and dining. The town's Barefoot Landing is a shopping and entertainment complex on the Intracoastal Waterway, making it my family's prime destination for dining during our stay.
Our favorite restaurant at Barefoot Landing was Lucy Buffett's Lulu's, where we enjoyed heaping plates of fresh seafood. On one evening, we boarded the Barefoot Queen Riverboat, a paddleboat dinner cruise that glides along the Intracoastal Waterway at sunset.
North Myrtle Beach is the birthplace of the Shag, a partner dance with smooth, fancy footwork performed to Beach Music. Beach Music is unique to the Carolinas. Popular songs include I Love Beach Music, Carolina's Calling Me, and Myrtle Beach Days.
The Shag became the official state dance of South Carolina in 1984. It's said that if you drive along Ocean Drive at night, you can hear the sound of beach music as those who love the Shag dance the night away.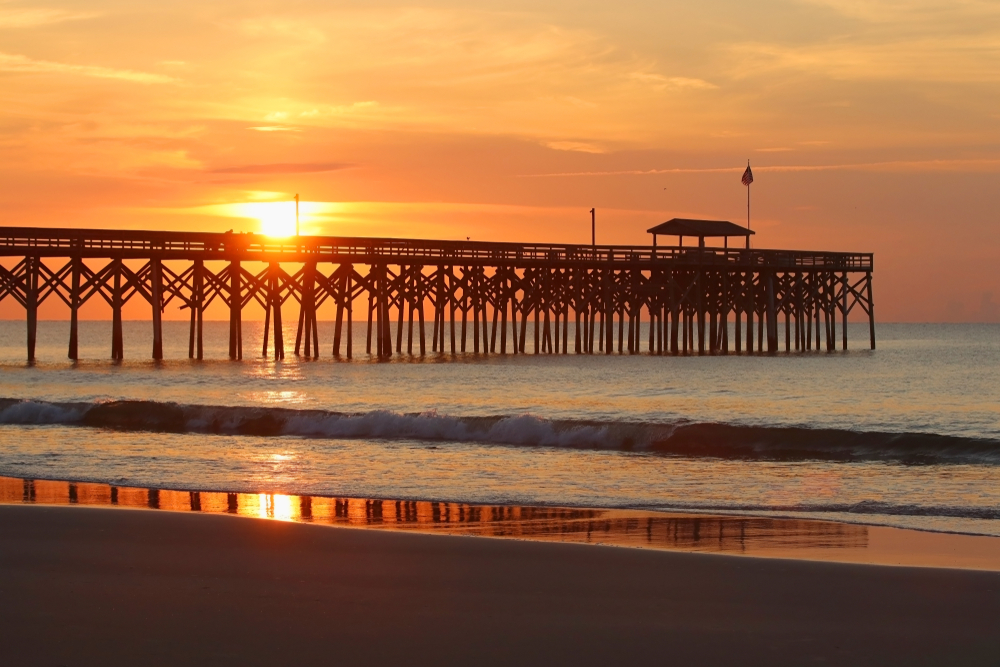 Murrells Inlet
For those with teens and older children, Murrells Inlet is a good choice. This little fishing village was once the lair of the pirate Blackbeard. Now, visitors and locals alike head there for outdoor adventure.
If you want to play on the water, Murrells Inlet is the place to go. You can rent kayaks, pontoons, and other boats. Or you could take a sunset cruise, rent jet skis, or go out on a deep-sea fishing excursion—all from Murrells Inlet. Some of our family went on a fishing excursion with Voyager Deep Sea fishing and came back with suntans and a cooler of fish.
At night, Murrells Inlet comes to life along the popular Marshwalk, with many waterfront dining establishments offering live music and beautiful views of the sunset.
Our favorite dining experience there was at Wicked Tuna, which prepares tasty seafood dishes using fish caught locally on their own boats. It doesn't get any fresher than that.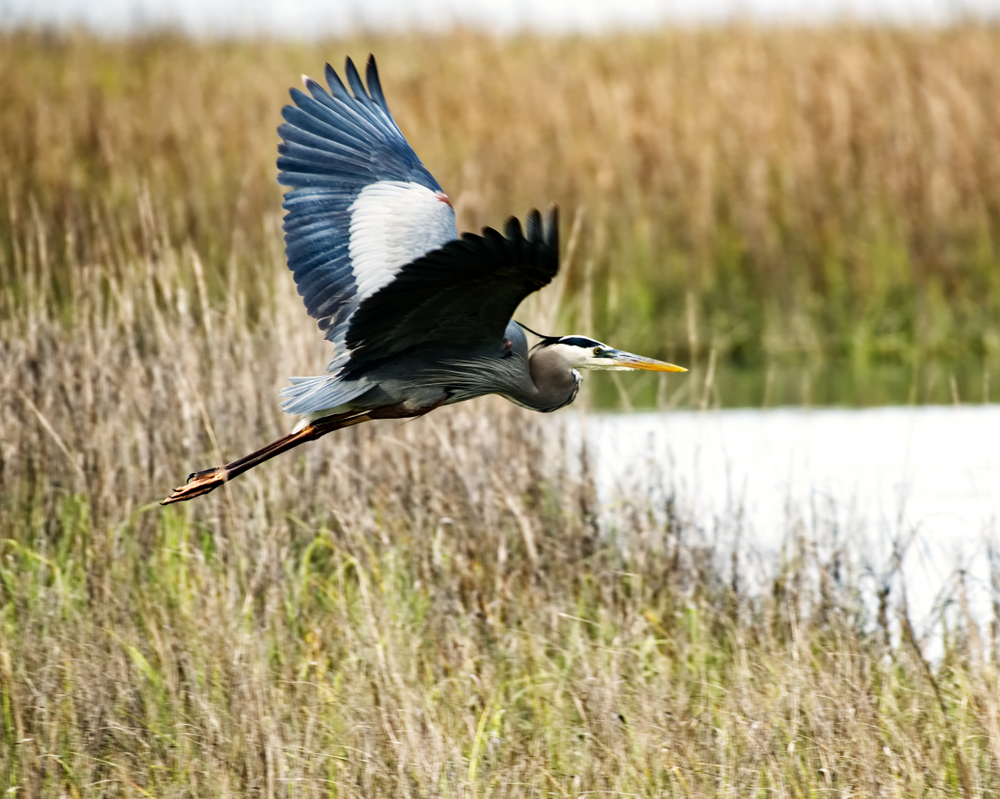 Pawleys Island
Those who want a quiet, unhurried vacation experience might want to head to Pawleys Island, located at the southernmost end of the Grand Strand. Its residents are known for their appreciation of the "arrogantly shabby," reveling in simple charms and natural beauty. That's evident in the community's unique shops and restaurants, as well as their obvious love for lounging in rope hammocks.
The island was once the summer home of wealthy pre-Civil War rice planters. Today, there are 12 residences dating from the late 1700s to the mid-1800s in the historic district.
Many visitors come to Pawleys Island for golf, and it's home to three of the country's top 100 public golf courses.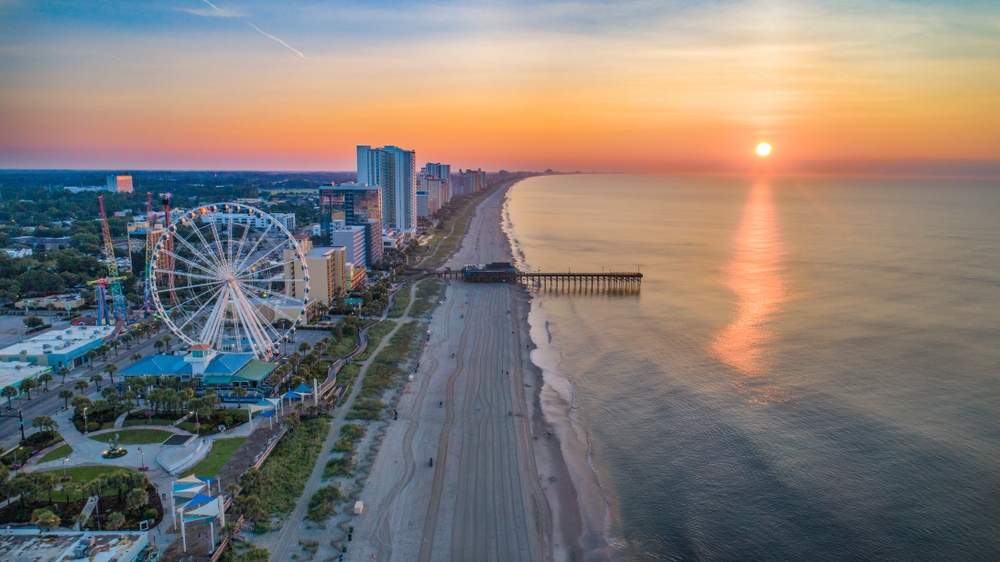 Conway
On our last day, we visited the town of Conway—one of South Carolina's oldest towns. Walking along the oak-lined avenues of this historic southern community was like stepping back in time. After asking one of the locals for their favorite place to eat in town, we stumbled into the Pickled Cucumber, a local diner that was obviously popular with the locals. After getting our simple but delicious meals—we got heaping plates of one meat and two sides for $8.25 each—it was easy to see why.
Later, we went on a guided kayaking tour on the Waccamaw River with Black River Outdoors. Our guide, Mike, shared his deep knowledge of the area as we paddled through the beautiful creeks and Cypress swamps. We were the only ones on the water, and it was serenely quiet as we listened to the warbling of nearby birds. The water was still, and it was an easy paddle under the shade of cypress trees draped with Spanish moss.
Mike pointed out turtles, water snakes—all the ones we saw were harmless—birds, and more. Though we were hoping to see alligators, they were shy and elusive. There were grins on my family's faces as we paddled through the water. That—at least for me—makes any trip worthwhile.
Janna Graber has covered travel in more than 55 countries. She is the editor of three travel anthologies, including "A Pink Suitcase: 22 Tales of Women's Travel," and is the managing editor of Go World Travel Magazine.