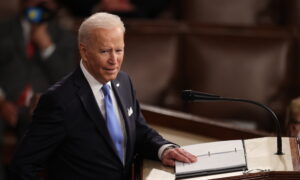 White House Chief of Staff Ron Klain said Sunday that President Joe Biden is not responsible for a surge in unaccompanied children crossing the U.S.-Mexico border.
"People who are sending their children here unaccompanied, children as young as 6, 7 years old, coming here with no adult who are sent on a dangerous journey—I don't think that is because of a speech Joe Biden gave," Klain told "Face the Nation" in an interview. "I think it is because of horrible conditions in El Salvador and Guatemala and Honduras."
Republicans, however, have blamed Biden for the surge in recent months, saying his rhetoric and his executive orders to rescind Trump-era immigration policies are the reason behind the recent surge of people crossing illegally.
"We're working hard to get those children reunited with family members here in the U.S.," he said. "The number of children we have stuck in our border patrol stations are down 84 percent in the past month. We're making progress on resolving this problem."
Nearly 5,000 children are in Border Patrol custody and more than 13,000 children are currently in custody with Health and Human Services.
During the month of March, Border Patrol apprehended 172,000 illegal aliens, according to statistics released on April 8 by Customs and Border Protection (CBP). An additional 1,000 per day are evading capture. In February, border agents apprehended 101,000 people.
Since he took office, Biden ended the construction of the border wall, ended the Migrant Protection Protocols, and limited Immigration and Customs Enforcement enforcement priorities. The Department of Defense last week canceled wall projects that were paid with funds that were initially allocated for the military.
"The Department of Defense is proceeding with canceling all border barrier construction projects paid for with funds originally intended for other military missions and functions such as schools for military children, overseas military construction projects in partner nations, and the National Guard and Reserve equipment account," said Jamal Brown, a spokesperson for the Pentagon, in a statement on April 30.
The Department of Homeland Security announced on the same day that it would take steps to address "physical dangers resulting from the previous administration's approach to border wall construction."
During a recent interview, Biden claimed that his administration has "now gotten control" of the surge of illegal immigrants at the Southern Border.
"It is getting urgent action now," Biden told NBC News last week. "For example, a month ago, we had thousands of young kids, in custody in places they shouldn't be and controlled by the Border Patrol. We have now cut that down dramatically."
Charlotte Cuthbertson contributed to this report.