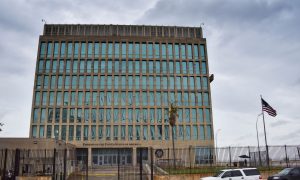 Republican and Democratic Senate leaders said that incidents similar to the suspected "directed" radio frequency attacks on U.S. diplomats in recent years appear to be increasing.
Sens. Mark Warner (D-Va.) and Marco Rubio (R-Fla.) said they've been aware for nearly five years about mysterious attacks targeting U.S. government officials in Havana, Cuba, and elsewhere. Some have speculated that it may be a type of "sonic weapon," and victims are said to develop illnesses known as "Havana syndrome."
"This pattern of attacking our fellow citizens serving our government appears to be increasing. The Senate Intelligence Committee intends to get to the bottom of this," the two senators said. Both senators are chairman and vice-chairman, respectively, of the Senate Intelligence Committee.
In 2016 and 2017, the so-called Havana syndrome attacks affected about 50 diplomatic personnel, who reported strange symptoms including vomiting, concussions, extreme nausea, and chronic headaches.
"The Senate Intelligence Committee intends to get to the bottom of this. We have already held fact finding hearings on these debilitating attacks, many of which result in medically confirmed cases of Traumatic Brain Injury, and will do more," Warner and Rubio said, adding, "We will focus on ensuring we protect our personnel and provide the medical and financial support the victims deserve. "
Their statement on April 30 came as CIA Director William Burns renewed research on the alleged attacks.
Cuba wasn't the only country where personnel reported the symptoms. In 2018, the United States removed several diplomats from China after employees working in Guangzhou in Guangdong Province reported "subtle and vague, but abnormal, sensations of sound and pressure."
Last year, a report from the National Academies of Sciences found that the neurological symptoms experienced by American diplomats in China and Cuba are consistent with directed microwave energy.
"The committee felt that many of the distinctive and acute signs, symptoms and observations reported by (government) employees are consistent with the effects of directed, pulsed radio frequency (RF) energy," the report said. "Studies published in the open literature more than a half-century ago and over the subsequent decades by Western and Soviet sources provide circumstantial support for this possible mechanism."
The report noted there was "significant research in Russia/USSR into the effects of pulsed, rather than continuous wave [radio frequency] exposures," saying military personnel in "Eurasian communist countries" had been exposed to non-thermal radiation.
"The mere consideration of such a scenario raises grave concerns about a world with disinhibited malevolent actors and new tools for causing harm to others, as if the U.S. government does not have its hands full already with naturally occurring threats," the report added.