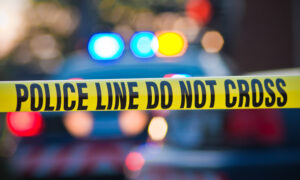 A woman and two children were found dead inside an Alabama lake last month, and a suspect in the case has been identified, officials said.
According to court documents on Friday, Remona Hudson of Cuthbert, Georgia, and her two sons were first shot before their vehicle was submerged in Alabama's Walter F. George Reservoir, located on the Alabama-Georgia border.
Warrants allege that Demetrius Devonte McGhee, 26, of Clayton, Alabama, was responsible for their deaths and was charged with capital murder, reported the Atlanta Journal-Constitution.
Authorities told WVTM that a passerby found the van containing the victims' bodies late last month.
McGhee was taken by air ambulance to Southeast Health in Dothan after a passerby found the bodies. Police in Alabama and Georgia worked on the case, a news release said.
Kiarrica Favors, the mother of McGhee's 3-year-old daughter, told WSFA that McGhee recently starting showing signs of mental illness.
"Don't get it wrong, I'm not trying to protect him in anyway, but one thing about it, after that situation happened, Demetrius was starting to change," said Favors. "We had a previous relationship of five years, and I am a survivor of domestic violence. He has told me that I'm trying to kill him. He thought that I was trying to set him up with the police to get him assassinated. That boy was looney as hell."
Investigators have not revealed McGhee's relationship with Hudson or the two boys. Court records were not available to show whether McGhee had a lawyer who could speak on his behalf.
The Associated Press contributed to this report.