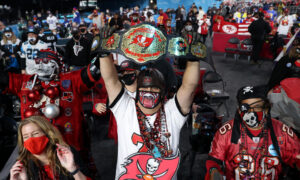 NEWPORT BEACH, Calif. (CNS)—Houston linebacker Grant Stuard was selected May 1 by the Tampa Bay Buccaneers with the 259th and final pick in the NFL draft making him this year's Irrelevant Week honoree, but it is unclear if the celebration will be held in its traditional Newport Beach home.
"Whether we celebrate in Newport Beach or in the city of the team, we will strive to create a unique celebration that will make him feel honored to be the newest member of the Mr. Irrelevant fraternity," according to a statement from Irrelevant Week organizers.
"Due to the nature of the various restrictions in place surrounding COVID-19 and the availability of the honoree, the Irrelevant Week team is keeping their options open in terms of planning the celebration."
Irrelevant Week, which serves as a fundraiser for Orange County charities like Serving People in Need, or SPIN, was canceled last year due to the COVID-19 pandemic.
Irrelevant Week CEO Melanie Salata Fitch made the announcement of the selection on stage in Cleveland, Ohio, where the draft was held, with a Buccaneers jersey with 259 and "Mr. Irrelevant" on the back held up next to her as she made the announcement.
Last year's Mr. Irrelevant, New York Giants linebacker Tae Crowder, may participate in this year's celebration, Fitch said.
"We didn't have one last year because we couldn't bring him out of New York or go to New York," Fitch said via telephone. "We're looking forward to this year being able to celebrate Mr. Irrelevant."
Fitch noted how much Crowder embraced his title, which has traditionally been a lighthearted jab at the last pick of the draft. The linebacker from Georgia made the team and was a notable contributor, Fitch said.
"He's the first Mr. Irrelevant to score a defensive touchdown," Fitch said.
The last picks in the draft have a greater chance in recent years of making the team, Fitch said. That trend improved since 1994 when the draft was reduced from 12 rounds to seven, she added.
"With seven rounds you get more of the cream of the crop," Fitch said.
Fitch's father, Paul Salata, who played end for the University of Southern California (USC) and two NFL teams, founded Irrelevant Week in 1976, when the draft was 17 rounds, "to drive home an important message—that it's not a negative to be picked last in the NFL draft, rather it's an honor to be drafted at all," he said.
"It's a lesson that resonates not only with NFL players and fans, but with people everywhere," Salata said.
Last year, the annual fundraiser did not rake in as much money as in past years, but benefited from having more volunteers, Fitch said.
"We didn't raise as much money, but our volunteer base grew, so what we were able to do was we were able to help local charities and people in need," Fitch said. "Our major sponsors still came through, so we were able to give money to support SPIN and the Orange County Youth Sports Foundation."
Much of the focus turned to "getting people into housing who lost their homes because of COVID and losing their job," Fitch said.
One woman who rented space in a garage to store her belongings while the family lived out of a car eventually was able to get housing with the help of the organization, but when she returned for her property the owner had given it all away because he didn't think the single mother would return for it, Fitch said.
"We got clothes for the kids, beds, everything," Fitch said. "They had nothing other than what was in their car. We feel good about all the people we helped."
The usual large banquet of 500 people is probably out of the question this year, Fitch said.
"We'll need to regroup," she said, adding it may become a barbecue picnic instead.
"I think we'll still be able to celebrate Mr. Irrelevant, whether it's taking him surfing or something."
Usually the event is coordinated with the team because it depends on when the player is available during the summer of team-related activities, Fitch said. The week of events is usually held in June.
"We're always flexible," Fitch said. "Now we're super flexible."
Irrelevant Week this year "will be like the circus. We'll be on the road, take it all out, and let's party. And the people who have been good supporters of Irrelevant Week, they're ready to flood back in. … People want to get out and have fun again, so hopefully we can provide that and celebrate Mr. Irrelevant again."