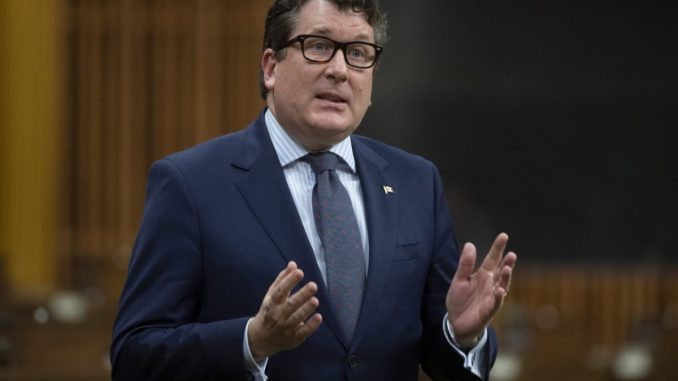 Canada has awarded nearly $6 million in contracts to China-based firms since Beijing's arbitrary detention of Canadians Michael Spavor and Michael Kovrig, according to Conservative MP John Williamson.
First reported by Blacklock's, Williamson, through an inquiry on March 10, received reports showing that federal departments and agencies issued $5.8 million in contracts to firms based in China or owned by firms based there between 2019 and 2020.
"Beijing holds two Canadians hostage, spies on our companies, undermines our institutions and openly threatens us," Williamson posted on Twitter Wednesday. "Yet it's business as usual in Ottawa as Canada's Liberals hand millions of tax dollars to Chinese firms."
Spavor and Kovrig were arbitrarily detained in China in December 2018. Their detention is widely considered as a hostile retaliation from Beijing against Ottawa's arrest of Huawei's chief financial officer Meng Wanzhou nine days earlier at the request of the United States.
Meng is under house arrest in Vancouver as her extradition case makes its way through court. She is accused of bank fraud for allegedly misleading HSBC in an attempt to evade U.S. sanctions against Iran.
Spavor was put on trial on March 19 for "spying and illegally sending state secrets abroad," while Kovrig was tried a few days later on charges of "spying into state secrets and intelligence" for foreign entities. Consular access to both court hearings was denied.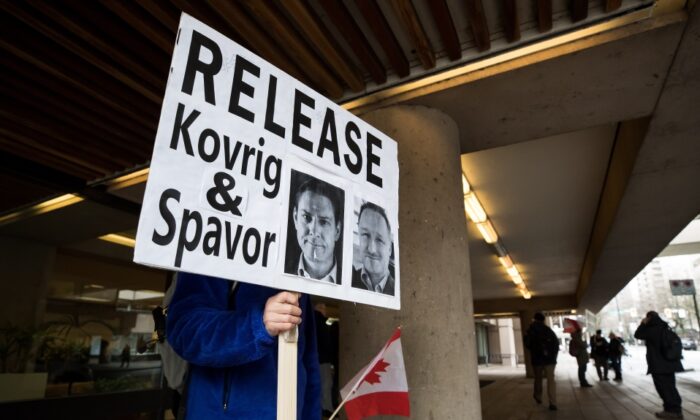 The details in Williamson's inquiry show that a number of government departments, Crown corporations, and agencies account for most of the spending on the Chinese contracts, reported the National Post.
For instance, the Public Health Agency of Canada had contracts with China Sinopharm International worth $228,614.40 to provide "disposable nitrile gloves." The entity is a wholly owned subsidiary of state-backed China National Pharmaceutical Group (Sinopharm).
A unit of Sinopharm's subsidiary China National Biotec Group—Beijing Biological Products Institute (BBPI)—develops the Sinopharm COVID-19 vaccine that has an efficacy rate between 11.5 percent to 33 percent, according to a March 10 report on Speevr, a California-based financial technology platform, in contrast to 79.43 percent claimed by BBPI in December 2020.
Meanwhile, the National Research Council (NRC) has contracts with Chinese companies that amount to $330,000.
In May 2020, the NRC partnered with CanSino Biologics Inc, a Tianjin-based biopharmaceutical company to develop the COVID-19 vaccine. However, the partnership came to a halt after the Chinese Communist Party (CCP) blocked the shipment of doses for clinical trials in Canada in August.
The folded partnership, according to experts in the intelligence community, was in line with the CCP's broader espionage campaign, and the knowledge gained from such programs could benefit the Chinese military and security apparatus.
David Mulroney, Canada's former ambassador to Beijing, criticized the federal government for not setting the right direction for its bureaucrats regarding China matters.
"A government on autopilot, unwilling to signal change to its public servants," he wrote on Twitter on April 28.
Global Affairs Canada spent about $753,000 on Chinese contracts, on grounds that "the funding available to satisfy the department's operational requirements at missions located around the globe, including China, requires that contracts with foreign vendors be issued to acquire goods and services," the department said in response to the inquiry, the National Post reported.
National Defence, however, spent just $305.65 on cable and chemical supplies.
In July 2020, Chinese firm Nuctech was awarded a $6.8 million contract with the federal government to install X-ray security equipment for 170 Canadian embassies, consulates, and high commissions around the world.
But the deal was cancelled following public outcry that Nuctech poses national security threats to Canada. The firm was founded by the son of former CCP leader Hu Jintao and has connections to the highest levels of the CCP, as well as links to the Chinese military.
Dan Danagher, assistant deputy minister of International Platform at Global Affairs, told a Commons committee in November 2020 that the department had reviewed Nuctech based on two questions: whether the equipment would be handling sensitive information or be connected to Canada's information network.
"When those two questions were considered negative, this was considered low-risk, and it was the paradigm that existed at that time," Danagher said.
When it comes to Crown corporation, the Export Development Canada (EDC) awarded $2.2 million worth of contracts to Chinese firms, out of which $1.3 million was given to China International Intellectech Group Co., Ltd, a human resources firm headquartered in Beijing, managed by the CCP. EDC facilitates Canadian small and medium companies to expand their businesses internationally, including in China.
Canada Post, another Crown corporation, declined to provide details on the amount it contracts with Air China and Orient Overseas Container Line Canada Limited, saying it's "commercially sensitive."
The Canadian Mint, which produces Canada's circulation coins and collector coins, had Chinese contracts worth nearly $1.9 million between October 2019 and March 2021.
Destination Canada, a tourism agency that markets Canada locally and globally, awarded $256,000 in contracts to Chinese suppliers, with one contract amounting to nearly $54,000 to a map publisher. The agency is wholly owned by the Canadian government.
Some federal departments told the National Post that the data may not be complete because the request included businesses "owned by entities based in China," and not all departments catalog it. Information deemed to be of national security concerns are not provided, particularly from departments such as the Canadian Security Intelligence Service.
With reporting from Andrew Chen.