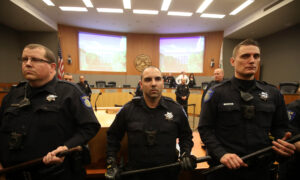 The city of Sacramento has unveiled a record-high police budget of $165.8 million, despite the creation of a new department that would shift certain responsibilities away from law enforcement.
In the face of cries from certain groups to "defund the police" across California and the United States, Sacramento City Manager Howard Chan has proposed to increase the police budget by $9.4 million, as part of the city's $1.3 billion overall budget for the upcoming fiscal year.
The changes, according to the proposal, cover a number of additions, including the recruitment of new officers, new replacement vehicles, and raises officers received from their union contract with Sacramento Police Officers Association.
Meanwhile, the city's Department of Community Response (DCR) is set to receive nearly $5.8 million for the fiscal year that starts July 1. The new department is designed to provide an "alternative response model" for 911 calls that are deemed do not require police involvement, such as mental health crises, homelessness issues, family crises, school responses, and substance issues.
Mayor Darrell Steinberg, who proposed the idea of DCR following widespread unrest triggered by the police custody death of George Floyd, said at least $10 million will be redirected to the new department from the police department between 2020 and 2022.
"I'm not for 'defunding,'" Steinberg said, reported the Sacramento Bee. "There are some things that are part of running a city, like collective bargaining and binding arbitration, and genuine needs for the police department."
The increase in budget still needs the approval of City Council, and some members are already speaking out against it. Councilwoman Katie Valenzuela told the Sacramento Bee that she is going to vote against the plan.
"To put more money into law enforcement when we've said as a city we want to move in another direction, it doesn't line up," she said.
In October 2020, the City Council voted unanimously to pass a "public safety" resolution, which acknowledged "generations of genocide, structural racism, and oppression have created the conditions young people face that perpetuate violence, crime and other risks to public safety."
The resolution also broadened the definition of "public safety" to include "youth-centered prevention services," such as arts, affordable housing, and food programs. As a result, those new programs will be funded by reallocating millions of dollars from police and fire departments.
"These types of resources can help promote public safety and general welfare while reducing factors leading to service requests for police and fire to respond which may be better served by various preventive and proactive service," the resolution reads.
The council will be discussing the police budget on May 25, and adopting a budget June 15.