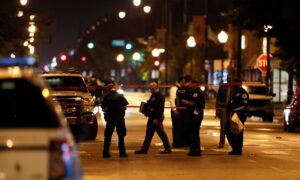 At least four people were killed and more than 30 others were injured in shootings across Chicago this weekend—from April 30 until May 2, police said.
The latest murder occurred when two men were shot on Sunday afternoon in Humboldt Park on the West Side. Police told the Sun-Times that they were outside at 2 p.m. when someone approached them and fired shots, killing a 34-year-old man and injuring the other, 40.
On Saturday, a 27-year-old man was shot multiple times on South Morgan Street in Englewood just before midnight Another man, 30, was injured in that shooting, officials told ABC7.
About 45 minutes before that, a 21-year-old male was shot and killed while riding in a vehicle in Burnside on the South Side of Chicago, officials said. He was sitting in his vehicle at 11:15 p.m. ET on Saturday when someone fired shots in his direction, said police.
About 30 minutes before that in West Pullman on the Far South Side, another man was shot during a fight. When two men began physically fighting, the other male shot the 37-year-old victim one in the head and fled the scene, officials said.
Last weekend, three people were killed and 21 others were injured in Chicago shootings, officials said.
According to data compiled from news reports, 204 murdered so far in 2021 in Chicago while more than 1,000 people have been shot.