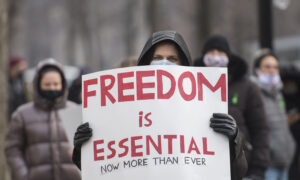 Thousands of people took to the streets in Montreal on Saturday, May 1, to denounce COVID-19 restrictions in Quebec.
Some 50,000+ people are marching past #Montreal's Olympic Stadium to protest Quebec's lockdown, curfews, and mask mandates.@RebelNewsOnline #Quebec #Canada #EndTheLockdown #cdnpoli pic.twitter.com/bYGXKuF8mB

— Alex Yelizarov (@alxyeee) May 1, 2021
Demonstrators, calling the restrictions excessive and unjustified, gathered at Montreal's Olympic Stadium, and demanded that the provincial government lift a nighttime curfew that has been in place in much of the province since January, as well as mask mandates.
Former MP and People's Party of Canada Leader Maxime Bernier, a vocal opponent of lockdown measures, also joined the protest in Montreal.
We're marching against #lockdowns and for your freedom in Montreal!#NoMoreLockdowns pic.twitter.com/jTNkhKHd0E

— Maxime Bernier (@MaximeBernier) May 1, 2021
Organizers said the protest was the first one of several planned for the coming weeks.
Similar protests were held in other parts of Canada, such as Calgary and the Toronto area.
Protests against lockdown measures have increased in Quebec and other cities in recent weeks.
Last weeks, several people were charged after attending an anti-lockdown protest in Peterborough with Bernier and Ontario MPP Randy Hillier in attendance. Both politicians were ticketed for violating COVID-19 restrictions.
With files from The Canadian Press