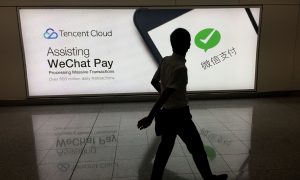 On April 29, 13 internet platform providers engaged in finance services were summoned to a meeting in Beijing with regulators, the latest in a series of meetings aimed at tightening control over its homegrown internet giants.
WeChat operator Tencent Holdings Ltd. and the on-demand delivery giant Meituan are among those tech firms which offer financial services like personal loans and insurance policies on their mobile apps.
Earlier this month, Ant Group, e-commerce giant Alibaba's financial wing, confirmed that it would transform into a financial holding company overseen by China's central bank after its representatives were summoned to a meeting with the regime's regulators.
Ant's group's case had some warning effect, but other financial platforms remain in a wait-and-see mode, reported state-run media Xinhua News.
Companies were told to proactively restructure their financial wings as holding companies subject to more rigorous supervision and obtain licenses before launching financial services, according to a statement issued by four regulators, the People's Bank of China, the China Banking and Insurance Regulatory Commission, the China Securities Regulatory Commission and the State Administration of Foreign Exchange.
Meanwhile, Reuters analyzed on April 29 that Tencent could be made an example of with a penalty of at least $1.5 billion for its monopolistic practices and not properly reporting acquisitions and investments for antitrust reviews.
State Administration for Market Regulation (SAMR), another regulator, imposed a record $2.8 billion fine on Alibaba's Ant Group on April 10, claiming for its anti-competitive behaviors.
Shares in Meituan dropped 3.6 percent and Tencent fell 1.8 percent Friday in Hong Kong.
The meeting signals that the authorities have a systematic plan to rein in big private firms, Lu Zhenning, a scholar in sociology at Zhejiang University, told Free Radio Asia.
"It is quite possible that [the regime] will transform them into the state-owned as the next step. The state will purchase its shares and even become a controlling holder," warned Lu.
Thirty-four big internet companies were summoned to a meeting in Beijing on April 13 by the SAMR, and were given one month to rectify monopolistic practices.