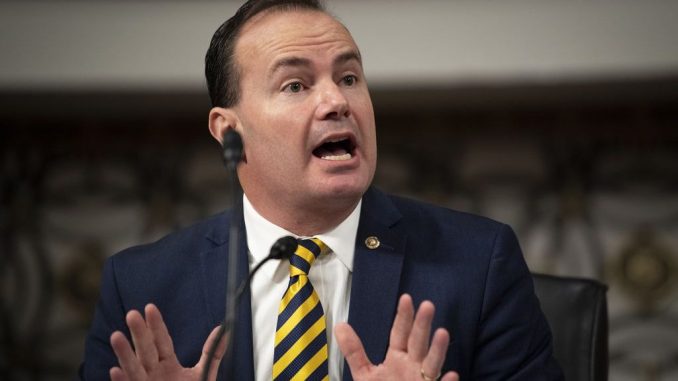 OAN Newsroom
UPDATED 8:22 AM PT – Wednesday, July 21, 2021
Senators across the political spectrum are banding together to rollback several tools in Joe Biden's foreign policy toolbox. On Tuesday, the delegation made of of GOP Sen. Mike Lee (R-Utah), Democrat Sen. Chris Murphy (D-Conn.) and independent Sen. Bernie Sanders (D-Vt.) introduced the National Security Powers Act.
The legislation would make it easier for lawmakers to reverse a president's foreign policy decisions, including war authorizations, weapons sales and emergency declarations. Additionally, the bill repeals all existing war authorizations and would automatically cut off funding for military operations that do not have congressional approval.
"These are proposals that I believe are long past due and are arriving just in time for us to get some good things done," stated Sen. Lee. "These are bipartisan issues. They're issues that are neither Republican nor democratic. They're neither liberal nor conservative. These are simply American issues that we should all be able to get behind."
BIG NEWS: Today @SenMikeLee @BernieSanders and I are introducing a compressive rewrite of presidential national security powers.

-No more endless war
-No more reckless arms sales
-No more open ended national emergencies

Read about it here:https://t.co/wcTBKwAP3S

— Chris Murphy (@ChrisMurphyCT) July 20, 2021
Lawmakers in both chambers have ramped up efforts to challenge Biden's authority after he ordered airstrikes in Syria back in February and June of this year. Some have come as far as to say Biden is abusing his authority to engage in international conflict while taking issue with the fact that Biden sidestepped Congress when giving the orders.
"I believe that we have become far too comfortable with the United States engaging in military interventions all over the world with barely any debate in Congress or in the public about the costs and potential unintended consequences of those interventions," said Sen. Sanders. "The time is long overdue for Congress to reassert its constitutional role in matters of war and peace."
In the meantime, Rep. Jim McGovern (D-Mass.) is expected to bring forward similar legislation in the House in the next few weeks. This move is building off of momentum garnered late last month, where representatives moved to repeal two authorizations of use of force powers in which give presidents broad authority to send U.S. troops abroad.