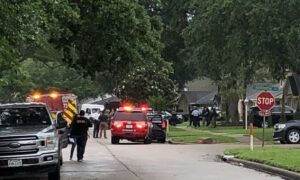 Houston police discovered a house with more than 90 people packed inside, in what appears to be an alleged human smuggling case, according to authorities on Friday.
At a press conference, Houston Police Assistant Chief Daryn Edwards said the Houston Police Department responded to a kidnapping call at a separate location on Thursday night. They were eventually led to the home on Friday morning.
Police then entered the building and found about 90 people "huddled together," he said.
According to Houston police, the incident may "possibly involve human smuggling," while Edwards said it's "definitely more of a smuggling thing and not a trafficking thing."
There were no serious injuries reported, the spokesman added, but he cautioned that "there may be some positive COVID cases inside the house."
Authorities noted that some have fevers, while some have lost their sense of smell and taste, which are symptoms of COVID-19, the illness caused by the CCP (Chinese Communist Party) virus. The local health department is now doing rapid testing.
No children were inside the house, Edwards noted. About five are women while the rest are men, he added.
Many had not eaten in a while, he said, adding that the youngest person was in his or her early 20s. They were provided food and water.
Police said the people were sitting next to each other and wearing "basic clothes" and showed no signs of being tied up. The home is two stories, and people were packed together on both floors.
Authorities believe a family member of a person inside the home contacted them and reported the incident as a kidnapping.
No information about a possible suspect was available, Edwards said. Homeland Security Investigations is leading the case.
The incident has not yet been confirmed as a human smuggling situation. Meanwhile, President Joe Biden has drawn flack for rescinding a number of Trump-era executive orders and for his messaging, although the president has defended his immigration response and claimed it is more humanitarian than his predecessor's.
Earlier this week, Department of Homeland Security Secretary Alejandro Mayorkas promised to disrupt human smuggling operations by "coyotes" based in Mexico and Central America.
"We know all too well that these [criminal] organizations put profit over human life with devastating consequences," he told reporters on April 27. He added, "We intend to disrupt every facet of the logistical network that these organizations use to succeed. Operation Sentinel will focus on disrupting the transnational criminal organizations that smuggle migrants into the United States."