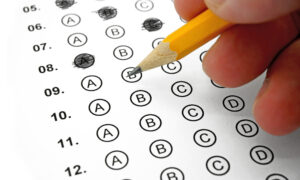 New York City should stop using standardized tests to determine who gets a seat in its prestigious specialized high schools, said New York City Schools Chancellor Meisha Ross-Porter, as the number of black and Hispanic students admitted to those schools dropped to new low this year.
Ross-Porter, who resumed office in February following former Chancellor Richard Carranza's resignation, said it's "unacceptable" that the competitive Specialized High School Admissions Test (SHSAT) once again failed to produce results that reflect the demographics of the nation's largest public school district.
According to Education Department (DOE) data released Thursday, black students received just 3.6 percent of this year's Specialized High School offers, while 5.4 percent went to Hispanic students. This marks another year of decline in the admission rates for those students, compared to 10 percent in 2020 and to 11 percent in 2019.
The city's education officials attributed the decline to a number of factors, notably the pandemic that made it harder for students to take SHSAT in person, as well as an exodus of 43,000 students whose families left the public school system at an unusual rate.
Meanwhile, Asian and white students comprised 53.7 and 27.9 percent of those admitted, respectively. The city's overall enrollment in the 2019-20 school year, according to the DOE, is 41 percent Hispanic, 26 percent black, 16 percent Asian, and 15 percent white.
"I know from my 21 years as an educator that far more students could thrive in our Specialized High Schools, if only given the chance," Ross-Porter said in a statement. "Instead, the continued use of the Specialized High School Admissions Test will produce the same unacceptable results over and over again, and it's far past the time for our students to be fairly represented in these schools."
To address what she considered unfair presentation of black and Hispanic students in her city, Ross-Porter urged that the state legislature amend the law that mandates SHSAT.
"The State law that requires the City to administer the exam must be repealed so we can partner with our communities to find a more equitable way forward, and do right by all of our children," she said.
Proponents of SHSAT, especially those from the Asian community, spoke against Ross-Porter's assertion. Lucas Liu, a member of Community Education Council for District 3 and co-president of activist group PLACE NYC, said the city should reflect on its own inability to prepare students for the test.
"If you provide the same quality education to all kids starting in elementary school, so when they get to middle school and they're going to take that screening test, they're ready," Liu told the Gothamist. "But they don't do that and they use the test to say it's racist, versus the test is highlighting which students you're not educating properly."