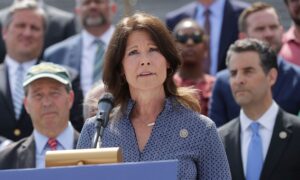 Rep. Cheri Bustos (D-Ill.), the former House Democratic campaign chief, said Friday that she will not seek reelection in 2022.
"Today, following a decade of service in Washington, I am announcing that I will not seek reelection in Congress after completing my fifth term," she wrote on Twitter.
Previously, Bustos had stepped down from leading the Democratic Congressional Campaign Committee after Democrats suffered losses in the lower chamber in 2020. Bustos had fielded criticism from Democrats over the election results before announcing last year that she would not serve as chair of the committee.
"As I turn every corner on each decade of life, I take time to reflect and evaluate what my next chapter might bring," Bustos added in a video on Friday. "That's how, 10 years ago, I decided to run for Congress. And it's why, today, I am announcing I will not seek reelection after completing this term."
She added that after she was elected, her tenure as a House representative "was never defined by the people in the corridors of Washington, but by the people in our communities, who I've been lucky enough to meet every day."
"As for the next chapter, it will always be my goal to think big and deliver results," Bustos said, without revealing details about her future plans. "In time, I'll share more on where that will take me."
In response, Republicans said that Bustos's move to retire is a sign she wasn't confident in winning during the 2022 midterm elections.
"Cheri Bustos made the right decision to retire rather than face defeat in 2022," Mike Berg, a spokesman for the National Republican Congressional Committee, told news outlets Friday.
Bustos's northwest Illinois district voted in favor of former President Donald Trump in both 2016 and 2020, while Bustos won her race only by 4 percentage points on Nov. 3, 2020.
But the congresswoman said that she's not leaving due to fear of the 2022 election cycle. "I've never lost an election in my life," she said.
The party of the president generally tends to suffer during the midterm elections, and Democrats hold an extraordinarily slim majority.
House Speaker Nancy Pelosi (D-Calif.), however, told CBS News this week that she believes Democrats will keep their majority.
"Elections are always a contest, and you see what happens in them," she said. "But I feel very confident that the Democrats will hold the majority after the next election."