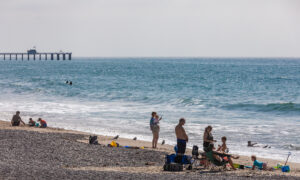 Orange County beaches are continuing to experience a "frustrating" amount of litter, with some waste brought on by the COVID-19 pandemic, environmental advocates say.
During a study of the impact of the pandemic on beaches, the Southern California Surfrider Foundation found personal protective equipment (PPE) to be amongst common waste.
"The COVID-19 pandemic led to an almost 63 percent decrease in the number of overall items collected during [beach] cleanups," Surfrider reported. "This past year personal protective equipment made up 1.84 percent of all items collected. While it may not seem like much, that is about the same percentage that plastic straws made up in the previous year and they were the tenth most commonly collected item."
Rick Erkeneff, vice chairman of the South Orange County Surfrider Foundation, said cleanup crews are finding more masks and plastic sand toys on top of the usual high amount of cigarette butts.
"It's really frustrating because it's plastic that's going to be around for a long time," Erkeneff told The Epoch Times. "They just leave the toys… and then somehow it's magically going to go into a trashcan."
Current and future impacts of the waste is a growing concern not only for the enjoyment of beaches for visitors, but also for marine life, he said.
There haven't been any direct injuries among Orange County's ocean mammals yet, but there is a concern regarding how the excessive waste will eventually impact marine life and coastal waters, Pacific Marine Mammal Center spokesperson Krysta Higuchi said.
"There is always that concern with the continuous trend of increased amounts of trash that end up in the ocean and now the increase in discarded personal protective equipment specifically," she told the Epoch Times.
Excessive waste was particularly evident at the height of the pandemic when all beaches in Orange County closed aside from those in Dana Point, Erkeneff said.
With crowds having made their way toward small beach fronts, he said, an increase of left-over plastic disposables and PEE's remained at the end of the day.
Erkeneff said that as more beaches opened, the waste was more normalized, but the increase in disposable masks remained for cleanup crews.
"Masks are not quite as toxic as cigarettes, but it's still about germs and they don't biodegrade," he said. "Why is it a volunteer's job to pick something up?"