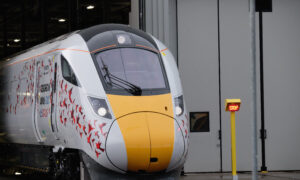 Britain's rail network is experiencing significant disruption on Saturday after a number of high-speed Hitachi trains were taken off service after cracks were found.
"Routine checks of Hitachi trains early this morning identified cracks on part of the chassis of some trains. Safety is always our absolute priority, so these trains have been taken off the network to undergo full and rigorous checks," said Rail Minister Chris Heaton-Harris.
"Hitachi are working to complete these strict precautionary checks. Trains will be returned to service as quickly as possible once they are fully approved as safe by the manufacturer," he said.
"I share the frustration of passengers who are experiencing significant disruption, and would ask people whose journeys are affected to check before travelling."
He said he has asked the rail industry to conduct "a rapid and comprehensive review to resolve the issue."
Rail companies said earlier that they had to suspend some services after cracks were found in some Class 800 series Hitachi trains, which are used by Great Western Railway (GWR), Hull Trains, London North Eastern Railway (LNER), and TransPennine Express (TPE).
In a statement on their website, Great Western Railway (GWR) said: "A number of Class 800 series Hitachi trains from several train companies have been taken out of service this morning for checks as a precautionary measure.
"As a result we have had to cancel a significant number of long-distance train services to and from Paddington, and while local services are running, we expect them to be very busy.
"This problem is being investigated by Hitachi and once trains have been checked and cleared, we hope to be able to release them back into service as soon as possible."
GWR said cracks were detected on "more than one" Hitachi 800 train, so all 93 Hitachi 800s in their fleet are being inspected as a precaution.
Heaton-Harris said that while some trains were starting to resume service, "disruption is likely for a prolonged period, particularly on GWR."
Hull Trains said its services resumed at around 1.30 p.m. on Saturday after half a day of cancellations. But GWR said disruption is likely to continue into Sunday.
Hitachi Rail said the company "would like to offer our sincerest apologies to passengers for the impact this may be causing for their travel plans."
"We are working with all partners to resolve this issue as quickly and safely as possible," said a spokesperson.
PA contributed to this report.