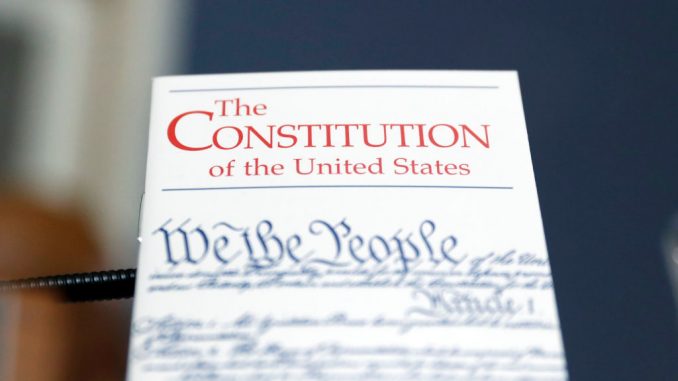 OAN Newsroom
UPDATED 4:00 PM PT – Wednesday, April 28, 2021
State lawmakers around the country have pushed for a convention of states to amend the U.S. constitution without the need to go through Congress. The Convention of States Project has been working on organizing the assembly since 2014.
Proponents of the plan cited increasing federal government power as the reason the convention needs to be held. This is especially emphasized under Joe Biden, who signed 50 executive orders in his first 100 days in office.
"Madison said: 'Federal powers are few and defined. State powers are many and broad,'" State Sen. Brian Birdwell (R-Texas) stated. "So each of the state's respective desire to rebalance what the founders had given us in the original document. To rebalance the power between the federal government and the states ability to make decisions for themselves."
The provision for states to call a convention to propose amendments is guaranteed in Article V of the Constitution. Article V requires two-thirds of all states to call the convention and then three-fourths of those states to vote in order to ratify an amendment. However, opponents argue the convention could be used to rewrite the entire Constitution, but supporters said this isn't the case.
"We're not calling for a constitutional convention where we rewrite the Constitution," Gov. Greg Abbott (R-Texas) said. "We're being very specific here about a convention of states to propose amendments to the Constitution. So the Constitution at large stays precisely the way that it is. We're looking for just one or two points that we want to clarify in the Constitution by amendments and that's what you do in a convention of states."
Those in power in Washington have pushed back against the possibility of constitutional amendments, which might limit their power. Many have tried to stir up fear by throwing out the term "runaway convention."
However, the COS Project has imposed limits on the powers of the convention by keeping its scope to three topics targeted at limiting federal powers.
"Imposing fiscal restraints on the federal government, limiting the power and jurisdiction of the federal government, and limiting the terms of office for its officials," Rita Dunaway, National Legislative Director of the COS Project, explained.
Political commentator and radio host Mark Levin has also argued the federal government has far more power to amend the Constitution than this convention would provide.
"In Washington today, we have an ongoing constitutional convention," Levin noted. "Where one branch or another, or the federal bureaucracy, act far outside the limits imposed on them by the Constitution. And rather than the branches checking and balancing each other, they usually reinforce each other."
Currently, 15 of the 34 states required to call the convention have passed resolutions to participate.