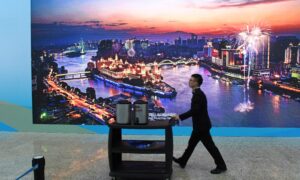 The Chinese regime has been rolling out free trade zones (FTZs) in recent years in an effort to entice foreign investments in the country. Since the first one was established in Shanghai in 2013, China now has about 20 FTZs.
A leaked document recently obtained by The Epoch Times reveals how the Chinese Communist Party (CCP) went about wooing foreign companies for its FTZ at Hainan, an island province located in the South China Sea.
Hainan, which is roughly the size of Maryland, was designated a FTZ by Chinese leader Xi Jinping in April 2018. In the same month, China's cabinet-like State Council announced a guideline outlining reforms and measures that the provincial government should undertake, including how the proposed FTZ should later transition to a freeport "with Chinese characteristics."
Among the recommended measures were how the Hainan government should become an important technological hub with its own management system to welcome foreign high-tech experts, and supporting Beijing's policies of "Belt and Road Initiative" (BRI, also known as "One Belt, One Road") and "military-civil fusion" (MCF).
These two CCP policies have been drawing international criticism in recent years. Critics have argued that China's BRI—an investment initiative Beijing rolled out in 2013 to build up trade routes linking China and other parts of the world—have put developing countries into a "debt trap."
The U.S. State Department has warned on its website that Beijing's MCF strategy—which calls for the leveraging of commercial technologies for military development—involves intellectual property theft.
The State Council's guideline concluded by emphasizing the importance for the Hainan government to "strengthen the Party's leadership" in all aspects of works in the province.
The leaked document, issued by the municipal government in Hainan's capital Haikou in May 2018, outlined strategies for how local authorities should entice Chinese and foreign companies—in particular those in the Fortune Global 500 list—to set up headquarters or regional offices at Hainan's FTZ. The document emphasized that the strategies were made in accordance with the State Council's guidelines.
For example, the document said it was important to have well-known global accounting firms, law firms, and product testing and certification companies set up offices at the FTZ to "create a business environment that complies with internationally-accepted rules."
Gu Gang and Sun Shiwen, who were both deputy mayors in Haikou at that time, were assigned to reach out to the "Big Four" accounting firms—UK-based PwC and Ernst & Young, Netherlands-based KPMG, and New York-based Deloitte—according to the document.
Another deputy mayor, Ju Lei, was given the task to reach out to foreign high-tech companies. According to the document, these companies included U.S.-based companies Apple, Dell Technologies and Microsoft, South Korea-based Samsung Electronics, Japan-based Mitsubishi Chemical Holdings, and Taiwan-based chipmaker TSMC.
Having major companies establish their business in Hainan served one purpose, the document stated, which was to "speed up the transformation and upgrade of [the] province's economic structure and build a modern economy system."
Finally, the document set out a goal of having at least five companies from the Fortune Global 500 set up offices at the FTZ before the end of 2018.
On March 11, the Hainan FTZ announced on its official website that 11 Fortune Global 500 companies, including China's state-owned Datang Corporation, have set up business at one of its 11 industrial parks. Datang, a power generation firm, was ranked 465 on the Fortune Global 500 list in 2020.
Since 2018, the Haikou municipal government has continued efforts to entice companies to invest in the FTZ with financial incentives.
For instance, in a policy announcement in February 2020, the Haikou municipal government said it would provide international companies that decide to set up a regional headquarter at the Hainan FTZ with a one-time payment of 3 million yuan (about $462,450). The amount was increased to 30 million yuan (about $4.6 million) for certain high-tech companies.
The policy also included government subsidies of no more than 3 million yuan in five years for companies that take out rental spaces at the FTZ.
Hainan has been a key venue for the CCP officials to interact with foreign business leaders since 2002, when the province held its first ever Boao Forum for Asia. The Boao is known as China's equivalent of Davos, an annual conference held in Switzerland by the nonprofit organization The World Economic Forum to boost public-private sector cooperation.
The Boao Forum is another vehicle through which Beijing hopes to woo foreign investors. According to another leaked document obtained by The Epoch Times, the Haikou government announced in October 2017 that local officials should put in the effort to reach out to companies that attended the 2017 Boao Forum, in a bid to secure their participation in the 2018 forum.
The publication also obtained an undated list of companies that Chinese authorities tried to invite to the Boao Forum. The list consisted of representatives from 164 Chinese and foreign companies and institutions. Among the names on the list were Stephen A. Schwarzman, CEO of U.S.-based investment firm Blackstone Group, and Frank Meng, chairman of semiconductor company Qualcomm Asia.