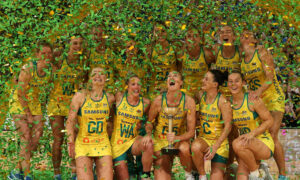 "We are confident they will deliver an excellent event in the city of Sydney, as we have seen Netball Australia do so in the past," she said.
The event will also coincide with Australia's centenary celebrations for netball.
NSW Premier Gladys Berejiklian said the event will provide a long-term boost to the state.
"We are delighted to be welcoming the world's best netballers and their supporters and families to NSW for this event in 2027, which will deliver enormous economic and social benefits to our state for years to come," Berejiklian said.
The top-ranked Australian Diamonds will be among the favourites to win the 16-team tournament.
Diamond's former captain Laura Geitz said Sydney's hosting rights will massively boost netball as the centrepiece of Australian women's sport. The popularity of netball has recently been challenged by women's football, rugby league, rugby union, football, and cricket.
"We've held the title of being the number one participation sport (in Australia) for so long, but we're constantly trying to stay ahead of the pack," Geitz told news.com.au.
The 2027 event will follow the 2023 Netball World Cup in Cape Town, South Africa, where the Diamonds will try for a record twelfth crown.
No venues have been confirmed at this stage, but Sydney boasts a number of available options alongside possibilities in Newcastle and Wollongong.
Australia has been crowned world champion twice when the event was previously hosted in the New South Wales (NSW) capital in 1991 and 2015.
Australia were runners-up in 1967 with Perth as the first Australian city to host the quadrennial event, when there were only eight teams present.