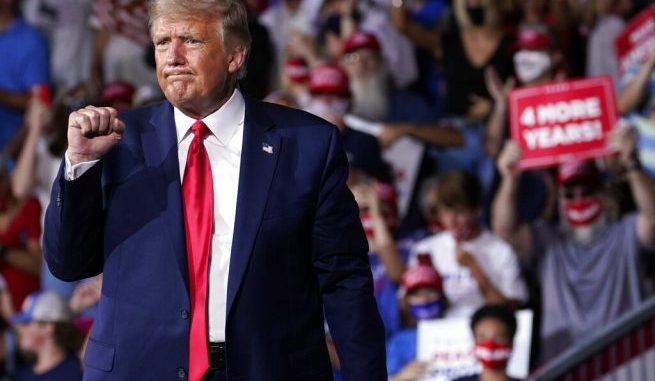 OAN Newsroom
UPDATED 7:04 AM PT – Wednesday, September 9, 2020
President Trump recently rallied hundreds of his supporters in the battleground state of North Carolina. Supporters from across the country came out to cheer him on during Tuesday's rally.
The president pointed out the hypocrisy of Democrat lawmakers who allow large protests, but attempt to restrict his rallies.
"They have rules in these Democrat-run states that if you're campaigning, you can't have more than five people…they did that for me," he stated. "…But if you're willing to riot…running down Main Street…and do whatever the hell you want to do, you're allowed to do that because you're considered a peaceful protester so we decided to call all our rallies peaceful protests."
During his speech, President Trump endorsed Dan Forest for the state's Republican nominee for governor.
"And by the way your state should be open…you ought to vote for Dan Forest," he told the crowd. "…They want to open, they want to have football, they want to have their schools open and it's a shame what's going on."
North Carolina's next Governor, @DanForestNC, revving up the crowd for President @realDonaldTrump's arrival to Winston-Salem! pic.twitter.com/N395HD8OZb

— Students For Trump (@TrumpStudents) September 8, 2020
Meanwhile, the president urged his supporters to make sure their vote is tabulated. He has recently raised concerns over the security of mail-in ballots.
"Make sure you send the ballot in and then go to your polling place and make sure it counts," he stated. "Make sure it gets counted because the only way they can win is by doing very bad things."
The president ended his speech with a promise to the American people:
"We are one movement, one people, one family and one glorious nation under God and together with the incredible people of North Carolina, we will make America wealthy again, we will make America strong again, we will make America proud again, we will make America safe again…and we will make America great again. Thank you North Carolina."