A new judge has been assigned to oversee a legal challenge to a Senate-led audit of votes in Arizona's largest county for the 2020 presidential election, the Superior Court of Arizona in Maricopa County announced Monday.
Judge Daniel Martin will be taking over the case after Maricopa County Superior Court Judge Christopher Coury, a Republican appointee, recused himself from the legal challenge on April 25.
Martin, who was appointed to the bench in 2007 by Democratic Gov. Janet Napolitano, is currently assigned to the civil division after having previously been assigned to the family, criminal, and juvenile court departments.
According to Martin's Superior Court biography, he formerly worked as an associate at the law firm Brown & Bain—which merged with Perkins Coie—a leading pro-Democrat law firm—in 2004, after Martin's time at the firm. Election attorney Marc Elias is a partner at that law firm, chair of Perkins Coie's Political Law Group, and one of the Democratic Party's top lawyers.
Elias previously suggested in a Twitter post that the Arizona GOP may receive "sanctions" for a prior lawsuit that sought a hand count audit in Maricopa County.
The announcement comes after Coury recused himself when he learned that attorney Chris Viskovic, with whom he had a prior working relationship, had joined the case.
According to a copy of the recusal first obtained by 12 News, the court received filings at 4 p.m. on April 25 that included names of new attorneys, including Viskovic, who worked at the office of Coury "as an extern within the past five years."
Viskovic now holds a position as a junior associate at Kolodin Law Group PLLC, which is representing the Florida-based cybersecurity firm Cyber Ninjas in court. Cyber Ninjas is one of four firms hired by the state Senate to conduct the audit.
The recusal noted that in accordance with the state's code of judicial conduct and rules of the Arizona Supreme Court, Coury must recuse himself from any further involvement in the case.
The audit started on April 19. Companies hired by the state Senate are examining 2.1 million ballots, testing voting machines, looking for IT breaches, and performing a hand count.
The state-issued subpoenas that were needed to execute the audit were ruled as valid on Feb. 25.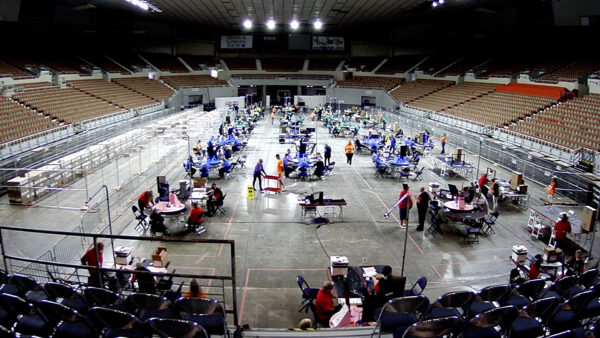 Arizona Democrats filed an emergency request to block the audit on April 22. Coury granted the request the following day but only if the party would post a $1 million bond. Democrats refused, so the audit wasn't paused.
During a hearing earlier in the day, Coury did say that he would temporarily pause the audit until at least April 26 so he could hear more about concerns Democrats laid out in a lawsuit.
Coury hasn't been popular among Democrats, who campaigned to oust him last year from another four-year term on the bench over his ruling on an education ballot proposition called Invest in Ed.
The Maricopa County Democratic Party in October 2020 campaigned to oust Coury, creating a website that called him an "activist judge" after he ruled that the summary for the proposed tax hike for education was misleading.
The Superior Court has announced that all hearings previously scheduled under Coury are canceled. Each side of the legal challenge will have 10 days to tell Martin how they think the case should be handled moving forward.
After Martin was assigned to take over, the Arizona Democratic Party, however, requested an "immediate hearing," 12 News reported. According to the news outlet, a new hearing has been scheduled for 11 a.m. on April 27.