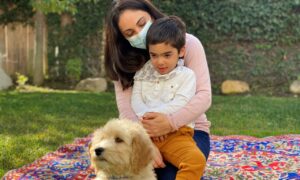 Young Darian Vakilil suffers from a rare disease called GM1 Gangliosidosis, a degenerative brain disorder caused by a single, but vital, missing enzyme.
GM1 strikes young children, causing toxic materials to build up in the brain, ultimately shutting down critical body functions.
Darian's parents struggle each day as they watch their four-year-old son's decline, but recently a little relief has found its way to the Vakilil's Irvine home in the form of a furry, four-legged friend named Frank.
Frank is now part of the Vakilil's family thanks to the combined efforts of Newport Beach neurosurgeon Dr. Pawel Jankowski, Make-A-Wish Orange County and the Inland Empire and Carlsbad-based Spinal Elements Inc.
To honor Darian and Dr. Jankowski, a special "hero" ceremony was held April 27 at the One Brain and Spine clinic in Irvine.
With Frank by their side, Darian and his mother Rojan, appeared on a large screen via Zoom, as Jankowski presented a $10,000 check on behalf of Spinal Elements, which raised the funds for Frank's donation.
Smiles Amidst the Struggles
The devastating effects of GM1 have already taken away Darian's ability to walk and talk and there is currently no cure or treatment for the disease. His life expectancy is age 10, but his mother said Darian is "full of life still and just the sweetest little guy."
She said Frank keeps Darian smiling, something his mother treasures as his motor skills decline.
On top of their daily struggles with Darian's condition, the 2020 COVID-19 pandemic seemed like a cruel hoax for the family when shutdowns prevented Darian from getting physical, attending occupational therapy sessions, or visiting with extended family and friends.
"We have to be careful even before the pandemic," his mother said. "Now, I've had to be a nurse, a mom, a therapist, a teacher…trying to juggle it all and be there for him every day. And we haven't been able to go out much in public so it's been a real struggle."
In addition to being Darian's companion and playmate, Rojan says Frank brings plenty of smiles to her and her husband as well and that his presence helps alleviate some of the stress and anxiety of their daily routine.
Darian's parents gave considerable thought to how Make-A-Wish could help bring him the most joy. Since Darian is now nonverbal, they noticed how his face would light up during his visits to equine therapy the minute he saw the horses and dogs at the facility.
They decided to ask for a puppy, knowing the gift would give Darian a lifelong companion that would bring him hope, strength and joy for his years ahead.
Partnership for Good
Frank becoming Darian's companion was made possible by Spinal Elements Inc., a Carlsbad-based medical device company that developed its Hero Allograft Program specifically to honor tissue donations as a gift of life. To date they have donated more than $1.5 million in proceeds from the sale of its Hero Allograft products to charities benefiting children with serious medical conditions.
"As soon as I heard about Spinal Elements' program to donate back the proceeds from their bone allograft products and their partnership with Make-A-Wish, I knew I wanted to be onboard," Jankowski told the Epoch Times.
"Our business can be tough—it's gratifying to work with a company like Spinal Elements and its 'hero' program. Instead of just turning a profit, their program enables Make-A-Wish to fulfill dreams like Darian's wish for a puppy."