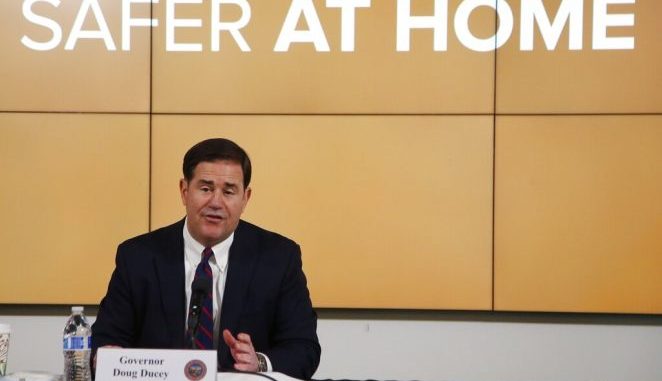 OAN Newsroom
UPDATED 10:00 AM PT —Saturday, July 11, 2020
Thousands more people have been infected as Arizona continues to battle rising cases of coronavirus. State health officials reported 4,000 new confirmed cases of COVID-19 on Friday, leaving Arizona with the highest rate of infection per capita in the nation.
According to data from Johns Hopkins, these additional cases have put the state's total to over 116,000. The state has also reported at least 13,800 recoveries.
Amid the surge of new cases, 90% of Arizona's intensive care units are at capacity. Several mayors have called on Governor Doug Ducey to implement more precautions, such as a statewide mask mandate, and encourage residents to stay home.
In the meantime, he has issued an executive order limiting indoor dining capacity to 50%.
"The objective here is if you are going to eat inside, to make sure there are as few people as possible inside that establishment," said Ducey. "So, you're safer at home."
Governor Ducey announced partnerships to enhance testing and a new Executive Order requiring restaurants with indoor seating to operate at less than 50% capacity. More information ⬇️ https://t.co/9czR6aOSrv

— Town of Queen Creek (@TownofQC) July 10, 2020
The governor also announced health authorities will increase testing efforts throughout the state in the following weeks.
"This will be an exponential increase in tests and processing tests," he added. "We will be at 35,000 tests by the end of July (and) 60,000 test per day by the end of August."
These efforts will have a special focus on lower income sections of Phoenix, where many residents have little to no access to test sites. Currently, most people in the state must wait a week or more to receive their test results.
.@AZDHS, @SonoraQuestLabs and @PerkinElmer teamed up to get Arizonans a quick turnaround on their #COVID19 test results — and Sonora Quest plans to exponentially increase processing capacity in the weeks and months ahead. https://t.co/Ylgk1eIY7O

— Doug Ducey (@dougducey) July 10, 2020
The governor went on to encourage citizens to stay home if possible. He highlighted the positive results of his executive order to close bars and gyms two weeks prior.
Ducey also reiterated he is currently leaving it up to local governments to decide on public mask requirements.