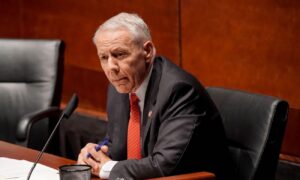 Political power is shifting after the 2020 Census data came out. Six states gained seats, while seven states lost seats. The House of Representatives is seeing minor shake-ups as a result. As for the population, it rose to over 331 million, a 7.4 percent increase from 2010—the second slowest growth rate ever.
Seven House Republicans are pushing back against Big Tech's monopolistic powers by not accepting campaign donations. The top Republican on the House antitrust panel, Rep. Ken Buck, is leading the seven representatives in the "Pledge for America." Rolled out earlier this week, the pledge's goal is to stay away from campaign donations from the likes of Facebook, Google, Amazon, Apple, and Twitter. This comes as a nonprofit project found that Big Tech broke its own records in political spending during the 2020 election cycle.
The Centers for Disease Control and Prevention's (CDC) guideline for children as young as two years old to wear masks is raising issue with some lawmakers. The bicameral group of legislators wrote to the CDC's director, Dr. Rochelle Walensky: "The implementation of these recommendations has had serious consequences for some Americans. Multiple parents of young children have been removed from flights, and in some instances, permanently banned, from future travel on the airline they were flying due to their toddler's refusal to wear a mask." They note the CDC's guideline is the strictest in the world. Thirty-two Republican lawmakers signed the letter.
Tune into Deep Dive as we explore these topics and more.
Subscribe to our YouTube channel for more in-depth coverage. For more news and videos, please visit our website and Twitter.