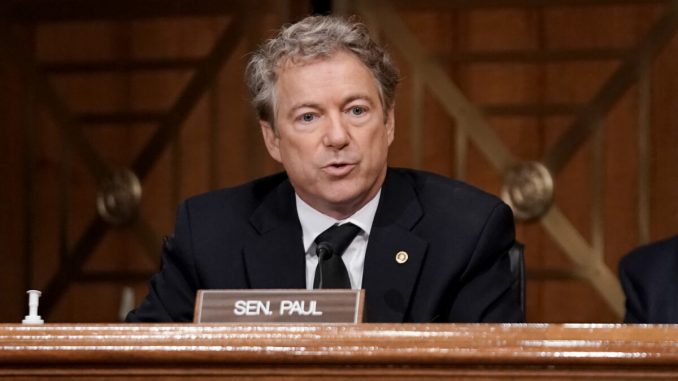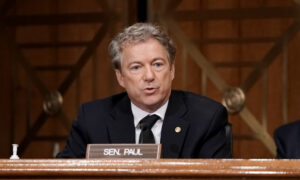 Sen. Rand Paul (R-Ky.) said federal government officials' insistence on wearing masks in public appearances has discouraged people from getting the COVID-19 vaccine, suggesting that it's not necessary for fully vaccinated individuals to keep wearing masks around in public.
Describing the move as "theater," Paul said that it would harm efforts to get people vaccinated if the public doesn't believe the shot has an impact in curbing the spread of the virus. He was referring to an online meeting between world leaders, in which President Joe Biden was the only official wearing a mask.
Biden forgot that "this theater was so ridiculous that people would call him out on it," he added. Last week, others had questioned why the president would wear a mask in such a setting. All the other world leaders, including German Chancellor Angela Merkel, Russian President Vladimir Putin, and Canadian Prime Minister Justin Trudeau were not wearing masks.
"If I want to go visit the White House, Republicans, and Democrats who go visit, even though they've all been vaccinated or had the disease, they're being tested with a deep sinus test," Paul told Fox News over the weekend,
"And they're being told that wear the N95 masks to go in the White House, even though they've all been vaccinated," he added. "So, there is no science behind any of this. It's fear-mongering. But it also has a deleterious effect, in that it's discouraging people from getting the vaccine because they're saying, well, if the vaccine doesn't mean anything, it doesn't seem to have any protective benefit, you get no benefit."
If people cannot "quit wearing the mask," some have asked why they should get vaccinated at all, Paul said.
"I think that's the wrong attitude," the Kentucky Republican added. "But this is what's coming from Biden and the so-called scientists that he's putting forward."
It comes as the Centers for Disease Control and Prevention (CDC)'s director, Rochelle Walenksy, said the agency is looking into revising its mask provision for people who are outside.
"We'll be looking at the outdoor masking question, but also in the context of the fact that we still have people who are dying of COVID-19," she told "Today" last week.
COVID-19 is the disease caused by the CCP (Chinese Communist Party) virus, otherwise known as the novel coronavirus.
The current CDC guidelines say that "masks may not be necessary when you are outside by yourself away from others, or with people who live in your household."
The Epoch Times has contacted the White House for comment.