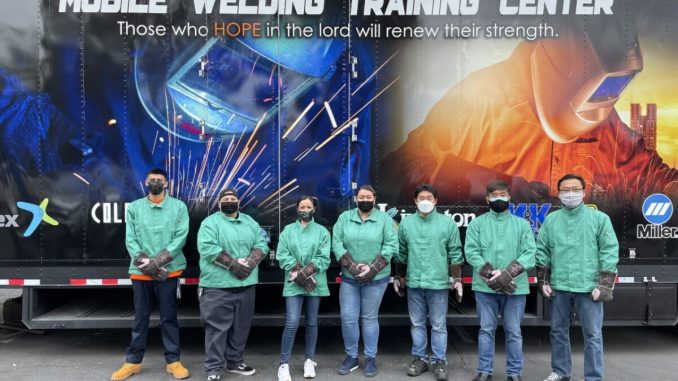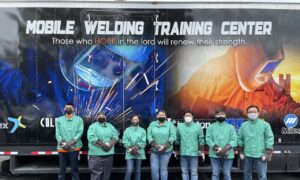 For Rolling Hills Covenant Church Outreach Pastor Steve Bunyard, helping those whose lives have taken a wrong turn means more than just enabling survival for the down and out. It means guiding them to a stable future by teaching them to provide for themselves.
Bunyard initially struggled with how to help rehabilitate those wanting to change their lives. He said he believed that providing dignity through a skilled trade could help many break their destructive life cycles.
"So many in need come from less-than-ideal situations; most grow up with no father in the home and have a mother who struggles with mental illness, depression, drug, or alcohol abuse," Bunyard told The Epoch Times.
As a result, he said the gang members, homeless people, and ex-offenders he works with often perpetuate similar situations in their own lives, and almost all harbor a fatalistic view of life and their future.
To support such people, Bunyard helped launch ReIGNITE Hope. Today it operates from a 6,000-square-foot facility housing 15 state-of-the-art welding stations and a 30-seat classroom in Gardena, California. While the 2020 class size was cut to 90 students, Bunyard said they usually have 250 students go through the program each year.
The program also includes a mobile classroom made from a modified 18-wheel truck that travels to various locations throughout Southern California, enabling 250 additional students to access ReIGNITE Hope's welding courses.
Bunyard told The Epoch Times that demand for prospective students continues to grow. The only requirement of applicants is a willingness to make the substantial changes in their lives necessary to overcome their past, and to do so clean and sober. More than 500 prospective students are on the waiting list.
Hope From His Past
Prior to becoming a pastor, Bunyard owned a high-performance transmission products shop and learned how to weld as part of his trade. As he pondered how best to help former gang members, homeless people, and ex-offenders rebuild their lives, an idea came to him: perhaps they might benefit from learning the skilled trade of welding.
Learning how to weld, he thought, might supply the necessary focus so many were searching for, and a roadmap to a career path that would give those willing to learn hope for a more stable future.
In 2011, through support from his church and a partnership with Willie Jordan, president of the Fred Jordan Mission on Los Angeles' Skid Row, they created the nonprofit welding school ReIGNITE Hope.
Bunyard started his first ReIGNITE Hope welding class on Skid Row with five homeless men eager to change their lives.
When asked the secret to the program's success, Bunyard chalks it up to word of mouth on the street.
"When your life gets completely changed, you tell everyone," he said.
Clear-Minded Demand
"I tell our students that the No. 1 reason there is so much demand for welders is because of marijuana," Bunyard says. "If there is a random drug test on the job or a boss smells pot on a welder, they immediately lose their position. For obvious reasons, they simply can't have high welders on the job."
Once accepted into the program, students are followed from the moment they are first referred until their first job as a welder. This is achieved through the assistance of qualified and experienced staff and volunteers who work one-on-one with each student to ensure they get the necessary skills and education to become employable.
"If they are struggling with any type of drug or alcohol abuse, we provide them with the resources to get clean," Bunyard said. "We have a zero-tolerance policy, but thankfully, in over 10 years, we've only had to ask one student to leave."
Bunyard recalled that the student came back from a lunch break smelling of marijuana and the instructor excused him. As he drove out of the parking lot, the student was so stoned he hit another car.
"The good news is that student cleaned up his act, asked to come back, and made it all the way through to graduation," Bunyard said.
Branching Out
With the unemployment rate of veterans alarmingly high, in 2019, ReIGNITE Hope started a class exclusively for at-risk veterans to facilitate their transition from military to civilian employment before they get lost trying to make the transition alone.
And while already compiled of a diverse race population, demand from women interested in a non-traditional career path resulted in the creation of a women-only class.
"Women seem to be somewhat more adept with the hand-eye coordination and fine detail welding demands," Bunyard told Epoch Times.
He shared the story of one student, Angela, as an example of the women who come to the program with little hope.
After years of depression, growing up in an abusive household, the product of drug use, divorce, and loss, Angela found the determination to turn her life around.
During her four months at ReIGNITE Hope, Bunyard said Angela proved herself to be an intelligent and hardworking individual. She graduated from the program and now has a stable career working for DMC Power as a certified welder.
The success of the many students like Angela who have gone through the program inspires Bunyard and his team. "It's never too late to see someone's life changed," he said.