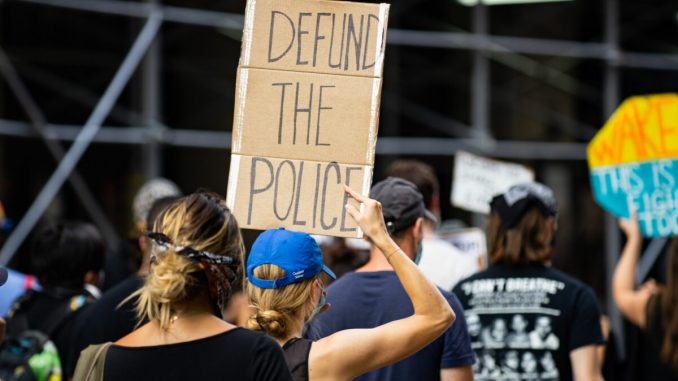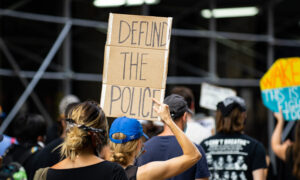 Black Lives Matter and affiliated protesters blocked traffic on the Brooklyn Bridge in New York City on Saturday night, leading NYPD officers to make arrests.
Video footage showed the demonstrators crossing the Brooklyn Bridge from Brooklyn into Manhattan before squaring off with officers. Some officers deployed pepper spray.
Other footage showed the demonstrators being told by officers to get off the bridge and pushing the crowd back.
According to officials, no injuries were reported, and about a half-dozen demonstrators were given appearance tickets for obstruction of vehicular traffic, reported the New York Post.
Last week, demonstrators and agitators were seen spray-painting red anti-police messages on a monument at Columbus Circle in Upper Manhattan.
Critics of the Black Lives Matter movement and protests have noted that protesters and agitators frequently vandalize and deface public property, statues, and small businesses—likening the defacement of statues of historical figures to China's Cultural Revolution from 1966 to 1976, where throngs of Red Guards would chant Maoist slogans as they destroyed temples, statues, and other historic buildings as they tried to eradicate Chinese traditional culture.
Meanwhile, in Portland, Oregon, Ted Wheeler called for a crackdown on Antifa anarchists.
"Our job is to unmask them, arrest them, and prosecute them. I want to personally thank neighbors, family, friends, and others who have come forward with vital evidence. People know who these criminals are. They know what they're up to," Wheeler said during a virtual briefing Friday. "If you see somebody engaged in criminal activity, and you can safely film it or take a photograph, please do so. To be clear, we're asking people to be engaged in a way that is nonconfrontational, that is nonviolent," he said.
Recent Black Lives Matter protests appear to have been linked to the fatal officer-involved shooting of a teen girl in Ohio who was filmed apparently trying to stab another girl. In Portland, Antifa groups and demonstrators have rioted and protested after a recent officer-involved shooting of a homeless man.
Meanwhile, in Brooklyn earlier this month, several NYPD officers were hit with an unknown chemical substance and a molotov cocktail was thrown at them during a traffic stop.
After a car was stopped by officers, the driver "threw a lit Molotov cocktail at cops" and sped off before crashing, said the NYPD. After the arrest, more Molotov cocktails were discovered, officials said.
"Words matter. Earlier this week we said that again after graffiti that proclaimed 'kill cops.' This morning..a Molotov cocktail thrown at an occupied marked police car," NYPD Chief Dermot Shea wrote in a tweet on April 17. "Now more than ever is the time to come together, to move forward together."