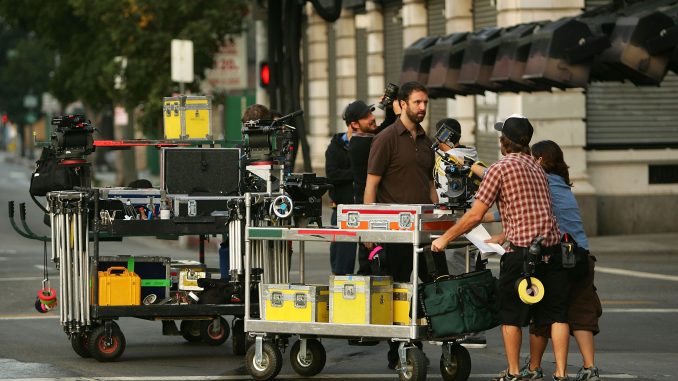 OAN Newsroom
UPDATED 2:40 PM PT – Tuesday, October 5, 2021
The union representing the off camera crew of Hollywood movies and television shows voted to strike. More than 98 percent of the International Alliance of Theatrical Stage Employees members voted in favor of striking on Monday if negotiations of a new contract could not be made with producers.
The union was founded in 1893 and represents the majority of non-actors in the production process including stage hands, sound crews and editors. The motion to strike was brought up after contract negotiations stalled with the Alliance of Motion Picture and Television Producers.
BREAKING: IATSE Members in TV and Film Production Voted to Authorize the first nationwide industry strike in our 128-year history.

98.68% voted yes, and voter turnout among eligible members was nearly 90% #IASolidarity #IATSEVoted pic.twitter.com/F4wx8cPubi

— IATSE // #VoteYES (@IATSE) October 4, 2021
Rebecca Rhine, the national executive director of the International Cinematographers Guild, voiced the concerns of many off-screen workers.
"We're looking for the employers to keep their long ago made promise that when new media moved from experimental to successful, that our members would then be paid industry standard rates for doing that work," she explained. "I don't think there's anyone that thinks Apple and Amazon and Disney need a break".
The current contract was negotiated in 2009 when online streaming services were in their infancy. During the lockdowns, many employees have viewed a favorable alternative to their current working conditions.
Variety reporter Gene Maddaus delved into what the crew members would like to see change in their work environment.
"I mean, the primary issue is hours. The issue is, you know, productions can go 14 hours a day, maybe longer or 16 hours, and this has been true forever, you know, decades and decades," he stated. "That's just how production is, but it seems like the pandemic has kind of made people stop and think".
#IASolidarity from the Directors Guild of America: pic.twitter.com/A91axhCwow

— IATSE // #VoteYES (@IATSE) October 5, 2021
Many studios have disregarded previous union demands due to the costs they have incurred from health regulations and production delays due to the coronavirus pandemic. In light of a strike however, Rebecca Rhine has been optimistic an agreement could be reached.
"Nobody wants a strike, but what this tells us is that our members have the resolve to do what it takes to be treated fairly and with dignity," she expressed. "Now it's up to the employers to return to the table and begin the process of resolving these issues"
The last major film crew strike took place in 1945 and is often referred to as Hollywood's Bloody Friday. A nationwide strike would disrupt productions across the country and deliver a major blow to the economy of Southern California.