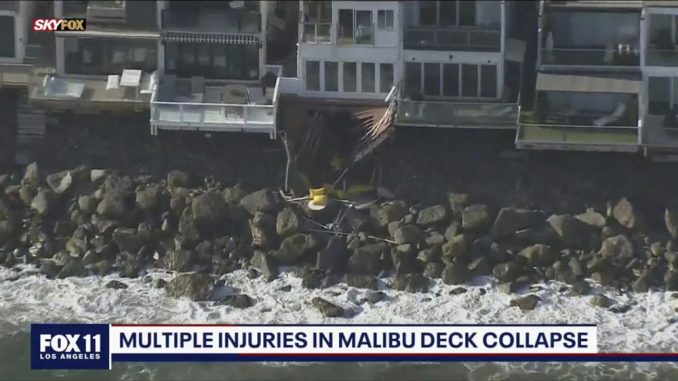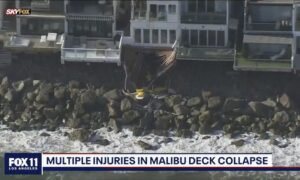 A beach house balcony in Malibu, California, collapsed and sent people onto the sand and rocks below, injuring nine people, fire officials said.
About 10 or 15 people were on the balcony during what was described as a social gathering on a home along the Pacific Coast Highway in Malibu, officials told KTLA.
Then, according to Los Angeles County Fire spokesman Ron Haralson, the balcony collapsed. The fall was between 10 and 15 feet, Haralson said, adding that nine were injured and four were taken to hospitals.
Los Angeles County Fire Department Dispatch Supervisor Melanie Flores told MyNewsLA that two people were taken to trauma centers in critical condition.
Security camera footage from the home next door obtained by CBS 2 shows a group of people looking out at the waves when the balcony gives way.
Shocking video of the moments a balcony collapses in #Malibu injuring several people. #CBSLA https://t.co/6lEnD4DxkW pic.twitter.com/1dhVsPWhi9

— Mike Rogers (@MikeRogersTV) May 9, 2021
Officials said the collapse is under investigation.
The owner of the house, who was not identified, told local media she was renting her residence to a group of four people and told them they were not allowed to have parties.
Neighbors over the weekend complained about noise, and the homeowner checked her security cameras and saw dozens of people in her home, according to KTLA. Local media reported that the home was declared by officials as uninhabitable.
The Associated Press contributed to this report.