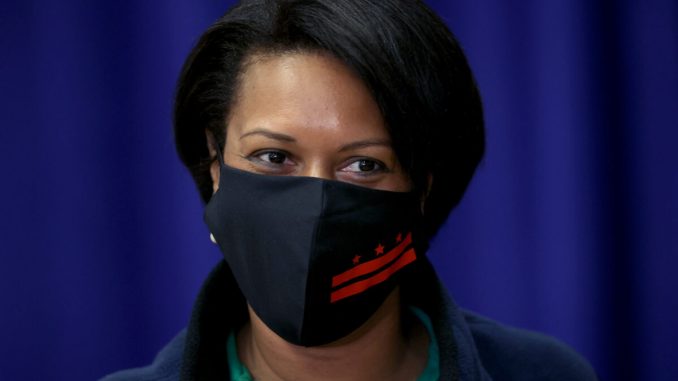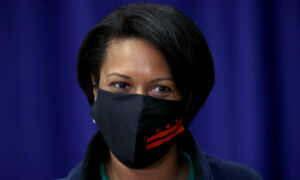 Washington Mayor Muriel Bowser said Monday that most COVID-19 restrictions in the nation's capital will be lifted on May 21, although masks will continue to be mandatory indoors.
Bowser made the remarks at a press briefing, during which she cited "dramatic improvements in our health metrics" as the underpinnings for a rollback of restrictions.
"We're very pleased that over the last several days we have seen our case spread, our community spread numbers, venture out of the red, into the yellow, and fast approaching the green," she said.
The mayor said the seven-day moving average of the daily COVID-19 case rate per 100,000 people stood at 6.6, as of May 8, down from a January peak of 45.9. A slide deck (pdf) accompanying her presentation showed that hospital utilization was at 75.6 percent of available beds without a surge, while noting that the U.S. capital had fully vaccinated over 226,000 residents since December 2020.
Bowser said that Washington will lift most of its capacity and activity restrictions on businesses on May 21 and the remainder on June 11.
Capacity restrictions on schools, "non-essential" stores, places of worship, restaurants, office spaces, fitness centers, and several other types of sites will be lifted on May 21. Large sports and entertainment venues will continue under a waiver process until June 11, at which point they will be subjected to no capacity restrictions.
Bars and nightclubs, which will be able to operate at 50 percent capacity on May 21, will see all capacity restrictions lifted on June 11.
Bowser also announced that 50 percent of Washington's government employees will return to in-office work by June 7 and, by July 12, all employees will be back behind their desks.
The mayor also said that all residents, workers, and visitors to Washington, regardless of vaccination status, will be required to follow mask guidance issued by the Centers for Disease Control and Prevention (CDC), which includes vaccinated people having to wear masks indoors.
"In indoor public spaces, the vaccination status of other people or whether they are at increased risk for severe COVID-19 is likely unknown," CDC guidelines say. "Therefore, fully vaccinated people should continue to wear a mask that fits snugly against the sides of your face and doesn't have gaps, cover coughs and sneezes, wash hands often, and follow any applicable workplace or school guidance."
The CDC guidelines say that vaccinated people can engage in outdoor activities without a mask, except in crowded venues and settings.