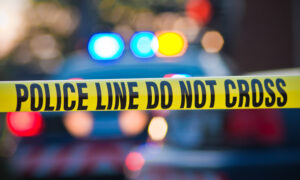 Police in Los Angeles shot and killed a man on Saturday wearing body armor after he refused commands and hit a police vehicle with his car, said authorities.
The Los Angeles Police Department (LAPD) wrote on Twitter officers were responding to a call at around 2:30 p.m. on Sunset Boulevard in Hollywood when a vehicle suddenly pulled in front of them and hit the brakes. The vehicle then reversed, hitting the police patrol car.
The driver then exited the car and was spotted wearing a bulletproof vest while one arm was behind his back, said the LAPD.
"He moved toward the [officers] who had exited their patrol car. He counted '3, 2, 1' & began to move his arm to the front of his body, at which time there was an OIS [officer-involved shooting]," the LAPD wrote.
The man was struck by gunfire & pronounced deceased at scene. Force Investigation Div detectives are on scene conducting interviews & gathering evidence.

— LAPD HQ (@LAPDHQ) April 25, 2021
That's when officers opened fire, said Los Angeles Police Department Detective Meghan Aguilar to The Associated Press. Neither Aguilar nor the LAPD disclosed the identity of the suspect, who was pronounced dead at the scene.
Aguilar said the department will review body camera footage of the incident. A gun was not found at the scene.
According to local media, the man's car had several bumper stickers making reference to the Illuminati and government cover-ups.
Following the shooting, Sunset Boulevard was temporarily shut down on Saturday, local media reported.
An investigation into the matter is ongoing, wrote the LAPD. Officials said it is the LAPD's second shooting in two days.
Meanwhile, Los Angeles Mayor Eric Garcetti, a Democrat, proposed a slight increase in the LAPD's budget—as the city is dealing with a sharp uptick in murders and shootings.
Garcetti proposed a 3 percent increase in the department's budget, which would provide for a police force of about 9,750 sworn officers, according to the Los Angeles Times. Los Angeles-area activists including a Black Lives Matter co-founder decried the move last week, while LA police unions said it is a step in the right direction.
"If you want to abolish the police, you're talking to the wrong mayor," Garcetti said on April 19. "If you want to move backwards towards a failed us-and-them strategy that made police an occupying force in communities they were meant to serve, you've come to the wrong place."