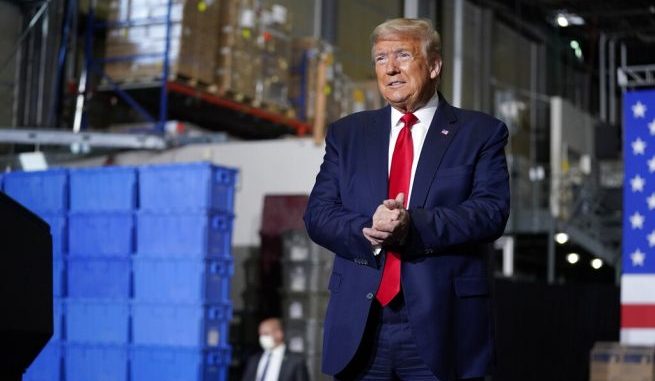 OAN Newsroom
UPDATED 2:00 PM PT — Thursday, May 14, 2020
President Trump has praised American medical supply companies for helping rebuild the Strategic National Stockpile. He toured a medical supply distribution center in Pennsylvania on Thursday, where he reaffirmed the country will be prepared for future outbreaks.
He claimed the Obama administration left him with a depleted stockpile and emphasized he's now working to bring critical manufacturing back to the U.S.
"So much of the product now is made in the USA, whereas in the past it wasn't. …That's taken a long while for us to get it, I started that right from the beginning. It's probably one of the major reasons I'm here. It's called America first." – Donald Trump, 45th President of the United States
Today, President @realDonaldTrump signed an executive order to ensure America is producing critical goods necessary to build up our strategic stockpiles.

"We want everybody to do well. But we have to take care of America first." pic.twitter.com/xHksiD1nTF

— The White House (@WhiteHouse) May 14, 2020
The White House is now in the process of expanding the national stockpile. The Trump administration is planning to produce millions of medical supplies by the fall.
Officials confirmed they're seeking to have 300 million N-95 masks, 7 million surgical gowns and millions of critical care drugs to prepare for "possible flare-ups" as the nation begins to reopen. The new plans aim to guarantee "supplies are cycled in and out of the stockpile," ensuring that the equipment does not expire.
President Trump signed an executive order on Thursday to invoke the Defense Production Act. This will enable U.S. manufacturers to produce the supplies needed to fill the stockpile.
President @realDonaldTrump is working to ensure a fully stocked, resilient national stockpile and a domestic industrial base capable of meeting any future challenge. pic.twitter.com/cSBYcEncHW

— The White House (@WhiteHouse) May 14, 2020
MORE NEWS: President Trump: 'No Interest' In Renegotiating Phase One Trade Deal With China