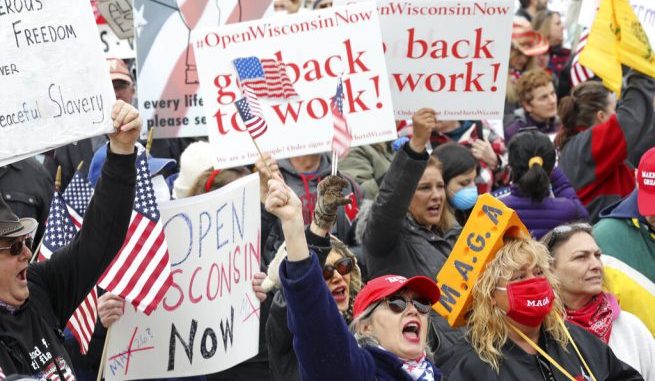 OAN Newsroom
UPDATED 1:18 PM PT — Thursday, May 14, 2020
Across Wisconsin, 'open for business' signs are going back up and residents are wasting no time getting back to normal. On Wednesday, the state's Supreme Court ruled 4-3 against Governor Tony Evers' lockdown order, effectively lifting all statewide coronavirus restrictions.
Residents quickly flooded into local businesses. In Milwaukee, one bar saw dozens of patrons.
"I have a toddler at home and I'm a fulltime nurse, so it's been very stressful and hard to not be able to go out, be with my friends and family at the bars," said one resident.
In Appleton, a locally owned restaurant confirmed they had seated at least 10 people an hour after the announcement.
President Trump weighed in on the ruling, calling it a "big win" for the state. He emphasized "the people want to get on with their lives, the place is bustling."
The Great State of Wisconsin, home to Tom Tiffany's big Congressional Victory on Tuesday, was just given another win. Its Democrat Governor was forced by the courts to let the State Open. The people want to get on with their lives. The place is bustling!

— Donald J. Trump (@realDonaldTrump) May 14, 2020
However, not everyone agreed with the court's decision. Governor Evers responded to the ruling by saying "we're in the 'Wild West.'"
"Unfortunately in one fell swoop, four judges, who didn't really care about what the statutes talk about, have thrown our state into chaos," he stated. "At this point, there are no orders, there's nothing that's compelling people to do anything."
Some city and county officials have begun issuing their own local restrictions to fill in where the state has backed down. Residents have spoken out against the move, which they claimed creates confusion and encourages residents to drive to specific counties to do business.
Despite the fallout, the state's top court has stood by its decision. According to the court, Governor Evers' stay-at-home orders were simply unlawful, invalid and unenforceable.