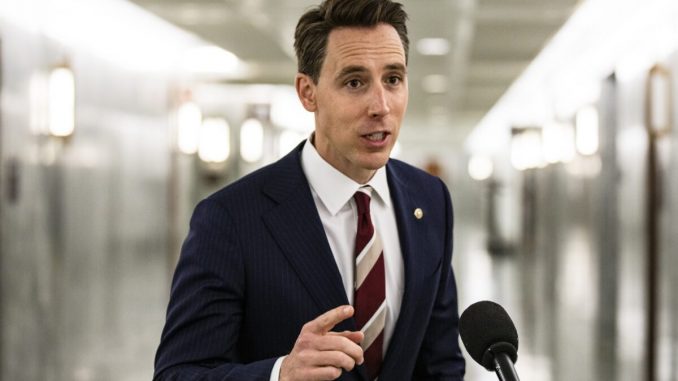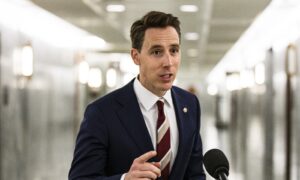 Sen. Josh Hawley (R-Mo.), the lone senator to vote against an Asian hate crimes bill on Thursday, said he could not approve the measure because the wording of the legislation was too broad and would infringe on the First Amendment.
On Thursday, the Senate approved 94-1 the measure that would combat violence against Asian-Americans and Pacific islanders during the COVID-19 pandemic.
The measure would allow for more police resources to be dedicated to hate crimes against Asian people by creating expanded reporting for the crimes. It would also create a position within the Department of Justice (DOJ) to review hate crimes across the country.
But according to Hawley in a tweet, the bill "turns the federal government into the speech police" and "gives [the] government sweeping authority to decide what counts as offensive speech and then monitor it."
In an interview with Fox News, the Republican senator said, "It's too broad. As a former prosecutor, my view is it's dangerous to simply give the federal government open-ended authority to define a whole new class of federal hate crime incidents."
Sen. Mazie Hirono (D-Hawaii), a sponsor of the bill, said the measure would "send a clear message of support and solidarity" while Sen. Susan Collins (R-Maine), who amended the bill, added that "crimes motivated by bias against race, national origin, and other characteristics cannot be tolerated."
The House is moving to pass a similar bill that can be signed into law by President Joe Biden.
According to data from nonprofit Stop AAPI Hate, there were 3,795 incidents reported from March 19, 2020, to Feb. 28, 2021. Verbal harassment accounted for 68 percent of all reports, while physical assaults made up just over 11 percent. The report contains firsthand accounts that detail the use of racial slurs and instances of shunning.
The Chinese Communist Party (CCP) hasn't hesitated in exploiting the recent narrative to push its own propaganda and to further divide the United States, according to scholars, human rights activists, and journalists, who have pointed out that the Chinese regime has weaponized racism by conflating criticisms of the CCP with discrimination against Chinese people.
Adrian Zenz, a senior fellow in China studies at the Victims of Communism Memorial Foundation who has exposed horrific human rights abuses committed by the CCP, said there's a "new trend of weaponizing racism against scholarship on China."
Zenz wrote in a Twitter post that hawkish CCP mouthpiece The Global Times had accused him and Washington Post journalist Josh Rogin "of being responsible for anti-Asian racism in the U.S." Both had been critical of the Chinese regime's human rights abuses against Chinese citizens.
Bowen Xiao contributed to this report.