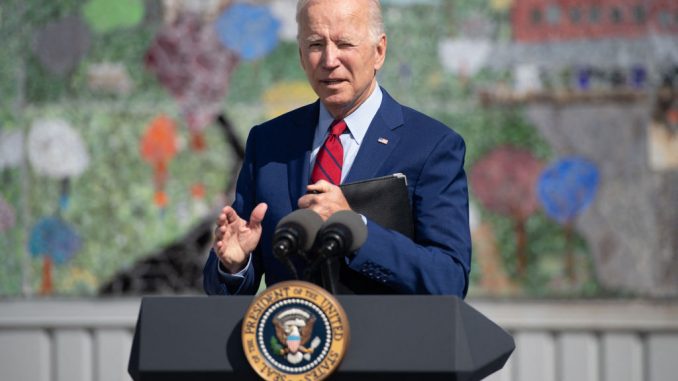 OAN Newsroom
UPDATED 10:55 AM PT – Friday, September 10, 2021
GOP states are reacting to Joe Biden's new nationwide vaccine mandate. Following Biden's statement on Thursday, GOP states have been discussing why they're opposed.
Following Texas Gov. Greg Abbott's (R) announcement to fight Biden's order, GOP Chairwoman Ronna McDaniel (Texas) declared the Republican National Committee would be suing the Biden administration.
In their release, McDaniel stated Joe Biden lied when he promised he wouldn't impose vaccine mandates once he was elected. Additionally, the RNC said for small businesses and workers who don't have the money to stand up for themselves, they would take matters into their own hands by suing the administration to protect Americans' rights.
Joe Biden told Americans when he was elected that he would not impose vaccine mandates. He lied.

When his decree goes into effect, the RNC will sue the administration to protect Americans and their liberties. pic.twitter.com/XinwFw4bam

— Ronna McDaniel (@GOPChairwoman) September 10, 2021
Prior to the announcement, GOP governors began expressing they would also be taking action. Missouri Gov. Mike Parson said the federal government's actions are not welcome in his state, as working families could see serious consequences.
In addition, Wyoming Gov. Mark Gordon warned his attorney general to prepare to take action in opposing the administration's "unconstitutional overreach of executive power." Further, South Carolina Gov. Henry McMaster stated the American dream is no more and that the Biden presidency has made it a nightmare. He added "we will fight them to the gates of Hell" in order to protect the liberties of South Carolinians.
The American Dream has turned into a nightmare under President Biden and the radical Democrats. They have declared war against capitalism, thumbed their noses at the Constitution, and empowered our enemies abroad.

— Gov. Henry McMaster (@henrymcmaster) September 9, 2021
In the meantime, the GOP is waiting for the order to go into effect so they can take their next step, which they say is to pursue legal action.