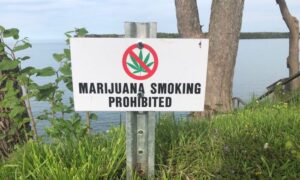 The Florida Supreme Court on April 22 rejected a ballot initiative (pdf) aimed at allowing people to vote on the legalization of recreational marijuana, saying it would be "misleading" to voters.
In a 5-2 ruling, the Supreme Court said the initiative's language—wording that people see when they cast ballots—that it "permits" marijuana use by adults "misleads voters into believing that the recreational use of marijuana in Florida will be free of any repercussions, criminal or otherwise."
The ruling came after Republican Attorney General Ashley Moody asked the court to advise whether the potential constitutional initiative would be suitable for a future ballot.
The proposed initiative, sponsored by Make it Legal Florida and titled "Adult Use of Marijuana" would have left it up to voters to decide whether or not to make it legal for Floridians 21 years or older to possess, use, purchase, display, and transport up to 2.5 ounces of marijuana and marijuana accessories for personal use for any reason.
It would also permit Medical Marijuana Treatment Centers to sell, distribute, or dispense marijuana and marijuana accessories if clearly labeled and in childproof packaging to adults.
However, it would prohibit advertising or marketing targeted to persons under 21 and use of marijuana in defined public places.
Sponsors of the initiative, backed by the Florida medical marijuana industry, had collected more than 556,000 signatures of the 891,589 needed by February to make it a ballot initiative in 2022. The effort also raised $8.2 million, according to the Miami Herald.
"A constitutional amendment cannot unequivocally 'permit' or authorize conduct that is criminalized under federal law," said the majority opinion shared by Chief Justice Charles Canady and Justices Ricky Polston, Carlos Muniz, John Couriel, and Jamie Grosshans. "And a ballot summary suggesting otherwise is affirmatively misleading."
Justices Allen Lawson dissented.
"Today's decision underestimates Florida voters," Lawson wrote in his opinion, "and adds hurdles to the citizen-initiative process that are not supported by the plain language of the governing law or our precedent."
Lawson also argued that "there is the practical matter of not knowing how federal law will change in the years between the drafting of any ballot summary and a vote on the amendment." The House of Representatives passed a bill in December to legalize marijuana at the federal level for the first time.
Justice Jorge Labarga also dissented but did not write an opinion.
Meanwhile, Moody's office praised Thursday's opinion.
"We thank the Florida Supreme Court for their time and attention to this issue and respect their ruling," a Moody spokeswoman said in a statement to Newsweek. "Floridians must fully understand what they are voting on when they go to the ballot box."
The decision by the Florida Supreme Court comes as several states such as New Jersey, New York, Virginia, and New Mexico have moved to legalize recreational marijuana.
In March, Senate Majority Leader Charles Schumer (D-N.Y.) said that he and other Democrats are ready to advance the controversial marijuana legalization cause, regardless of whether President Joe Biden supported the effort.