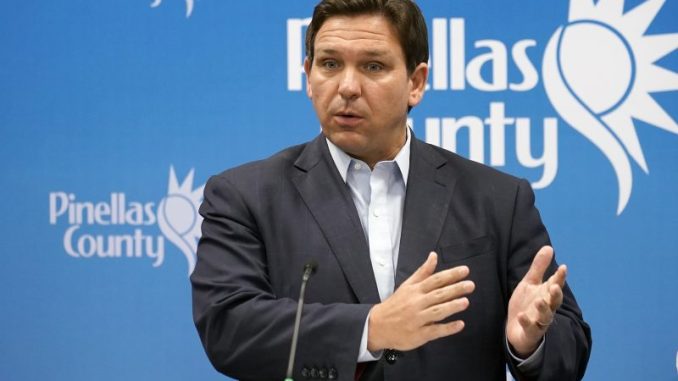 OAN Newsroom
UPDATED 10:53 AM PT – Thursday September 29, 2022
Florida Governor Ron DeSantis and President Biden are momentarily putting their political differences aside as they seek to ensure that state and federal authorities are effectively responding to Hurricane Ian.
In an interview on Tuesday, DeSantis noted that the severity of the situation required coordination with the Biden administration. DeSantis shared his appreciation for the president and his administration.
"When people's lives and their property are at risk like this, we all need to work together regardless of party lines," DeSantis said. "The Biden administration has approved our request for a pre-landfall declaration and did that very quickly, so we are very thankful for that…And it's my sense that the administration wants to help. I think they realize that this is a really significant storm."
This comes as the Federal Emergency Management Agency (FEMA) indicated that their coordination with DeSantis and other state officials has been excellent.
Biden officially spoke to DeSantis on Tuesday. There, the two discussed the federal government's efforts to help Florida. The president, who said his team has been in constant contact with the governor, detailed his administrations work during an event on Wednesday.
Biden also made it known that the federal government is committed to helping Florida recover and rebuild after the hurricane passes.
"We've approved every request Florida has made for temporary assistance, emergency assistance, long term assistance that I've received," Biden said. "We discussed what we've done to prepare for the hurricane. That includes dispatching hundreds of FEMA personnel and activating thousands of National Guard members. I've also developed a search and rescue team and deploy them to multiple federal agencies, and they've already on the ground are ready to help as we speak."
President Biden and Governor DeSantis spoke for a second time on Thursday morning.  During their meeting, Biden and DeSantis committed to continuing their close coordination. Their latest conversation came after Hurricane Ian made landfall.
Ian made landfall as a Category 4 storm. It brought high winds, torrential rain and it raised the storm surge to the coastal regions of the state. The hurricane hit Florida with 150 mile-per-hour winds. However, it has since been downgraded to a Category 1 storm.
The Lee County Sheriff said fatalities are in the hundreds and that thousands of people are waiting to be rescued. However, Governor DeSantis said the reported fatalities are unconfirmed. 
Hurricane Ian has caused massive floods and has knocked out power for millions of Floridians. During a press briefing on Thursday, DeSantis announced that two of the most populous counties in the state have lost connection to the power grid.
"Between the National Guard and Coast Guard that are already performing these active rescue missions and there will be more air assets brought in, as the day goes on. We've also been working with hospitals overnight, who've been on generator power," DeSantis announced. "We're in the process of evacuating two healthcare facilities to safer locations north. We're also surging more medical personnel into the area. As of 6 a.m. this morning (Thursday, 9/29), we have 2.02 million reported power outages."
All of Florida remains under a State of Emergency. The National Hurricane Center has warned of a life-threatening storm surge.